CREATING NEW NORMALS (August 31, 2020)
CREATING NEW NORMALS (August 31, 2020)
I'm writing this at Morro Bay, where Nancy and I are hovering after self-evacuation from our retirement community to escape the billowing smoke and threatening spread of the Santa Cruz fire. More on that adventure next month. For now, let's focus on the virus.
It's looking increasingly likely that the COVID-19 pandemic will remain with us for the foreseeable future – nationwide and worldwide. For sure, through the end of this calendar year; but probably beyond, through 2021 or even longer. In this post, I'd like to glimpse how fellow seniors are adapting to that extended timeline: restructuring projects; recalibrating strategies for coping with personal challenges.
In response to subscriber requests, I'm also tossing in more summer-reading recommendations.
RE-IMAGINING SHIRLEYFESTS CLOSER TO HOME
          Agile Aging subscribers may remember Shirley Buccieri's peer profile from mid-September, 2019. Shirley's innovative approach to solo foreign travel inspired a flurry of appreciative feedback. For September, 2020, she'd selected Paris as her annual destination. COVID-19 threw a wrench into those plans. I reconnected with Shirley to ask how the pandemic's expanding spread and extended duration are intruding on her senior travel passion.
          Knocked Off-Track
          Shirley began her update by recapping when she'd finally decided to surrender her Paris plan, and what considerations had convinced her to bail. The main plan components had been secured by December, 2019. A fabulous apartment rented in a cool arrondissement; round-trip Business Class air tickets purchased from Delta.
            Even when the pandemic became front-page news this past March, Shirley assumed it could be brought under control by April or May. After that, her prospects rapidly deteriorated, on both sides of the Atlantic. Tit-for-tat travel restrictions by the American and European governments. A strict lockdown across France. Paris museums and restaurants shuttered. Shirley reluctantly but quickly accepted that this trip was "not meant to be."
           By good fortune, she was able to cancel her bookings without onerous penalties. Her Paris landlord was gracious and empathetic, releasing her from her contract free-and-clear. Just before Shirley prepared to back out of her air reservation, Delta cancelled her flights, giving her a full refund instead of an iffy credit towards future fares. 
          I asked if "losing" Paris threw her into a funk or spurred swift contingency planning. She replied that her determination to salvage a10th Shirleyfest was resolute. And her core concept remained intact: an exploration, not a vacation; plunging into a new learning environment for a solid month. She also insisted that her consistent September timing was non-negotiable — it was her birthday month, after all! Beyond these fundamentals, all other parameters were eligible for re-tweaking. A decade of field experience had convinced her each Shirleyfest is different; that is part of their appeal. If Paris was off the table, where could she go instead? And how could she make it happen? Despite her enthusiasm, the external constraints were formidable. American travelers were increasingly banned from foreign destinations. Airplanes presented unacceptable virus-transmission risks. So where could she get to on the ground? Better yet, without having to enter potentially unsafe overnight lodgings en route?
          Lateral Thinking
          At this crucial juncture in her reassessment, Shirley confided with a laugh, "divine intervention" lent a hand. Her Bay Area-based younger brother called to commiserate. Confirming that Paris was kaput and ground travel was now essential, he unfurled an intriguing proposition. He and his wife were just completing a year-long renovation and upgrade of a second home in Santa Barbara, California. How would Shirley like to be the refabricated property's first occupant? She was thrilled by the possibilities. 
          I love serendipity, but I interrupted Shirley's phone narrative to play Devil's Advocate. To me, much of the core appeal and magic of her Shirleyfest concept rested squarely on cross-cultural immersion. Foreign travel, to be sure. But lingering and learning, in deliberate contrast to quick-quick destination-hopping. In practical terms, this approach was pursued in a local neighborhood, apartment, and café/bar as a supportive setting, tasting a local lifestyle for an extended period. Experiencing and appreciating daily life in a foreign community. To enrich each sojourn, Shirley's city-selection criteria had always included accessible art and culture, and convenient public transit. If this profile was mostly accurate, how much of this agenda could Shirley realistically expect to accomplish in a Southern California beach resort? An upscale vacation getaway, certainly. But cross-cultural immersion?
          Shirley acknowledged this was a fair question; and conceded the proof will be in the pudding. But she shared some encouraging signals from a preliminary visit to Santa Barbara undertaken with her brother so he could point out house systems and switches. In a chance bike-riding encounter, a local neighbor asked if Shirley might like to join an informal group periodically gathering by the Pacific shore to celebrate "the water." A history buff surprised her with the information that the earliest human remains in North America (from 11,000 BC) had been unearthed in the nearby Channel Islands and are being studied at the Santa Barbara Museum of Natural History.
          As a serious cooking aficionado, Shirley was delighted to learn that the first avocados imported from Mexico for U.S. cultivation had been planted in Santa Barbara. Nearby wineries also enjoy a top-quality national reputation. A promising start. And she hadn't even moved in!
          Still semi-skeptical, I brought up another linked core principle that makes Shirleyfests work: proximity. Getting physically close to local neighbors, schmoozing, sharing meals and drinks in a local café, cooking for them in her sojourn apartments. How will she practice that conviviality in an environment of masks, social distancing, closed restaurants and bars? "Even if you and your new friends entertain with discipline, how will you insulate yourself from drunken college kids?" Shirley echoed my concerns. She emphasized that she is "super-careful" when it comes to COVID-19. At home in the Bay Area, she has experimented with and practiced terrace entertaining, scrupulously observing and enforcing social distancing. The house and grounds in Santa Barbara are ideal for such spacing. But if disciplined interactions with locals prove problematic, she will just walk away. Her personal health is not up for grabs.
        And if, as I increasingly anticipate, the pandemic lasts through 2021, can Shirley contemplate selecting another stateside venue next year? If so, does she have any preliminary candidates? Shirley's voice shuddered at this marathon prospect. She continues to hope the virus will be brought under control, sooner rather than later. On the other hand, Chicago could easily invite a month of exploring. If only she doesn't have to bike from California to get there!
          Wrapping our exchange, how does Shirley feel about COVID-19's lengthening impact on her annual senior project? Because of her self-described privileges – blessed with physical fitness, adequate resources, no small children or elderly parents to care for during the pandemic — thus far she has not felt a huge impact. Fully respecting the terrible burdens the virus is inflicting on others less fortunate, across the nation and the world, "I can't summon too much outrage over my wings being clipped for the time being. But when this is all over, I really do want to travel at top speed and far and wide. First let me try Santa Barbara. After that, we'll talk."
FRANK'S TRIPLE WHAMMY
            Preexisting Conditions
            COVID-19 has dominated nightly newscasts for so many months, it's easy to forget that preexisting senior problems didn't disappear when the virus struck; they just became more complicated.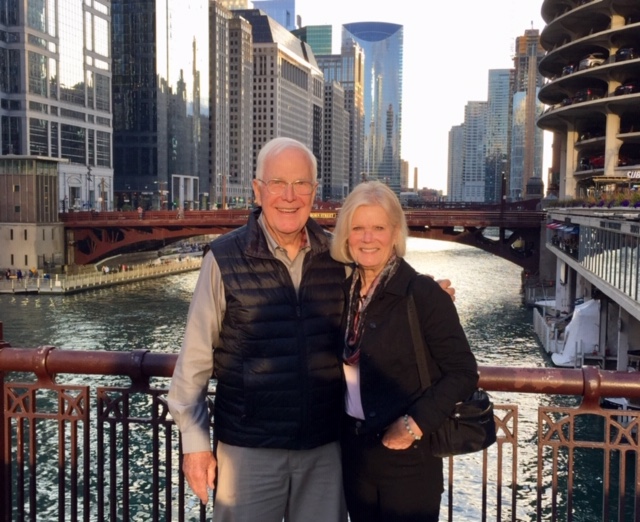 Frank Olson and his partner Dori had been happily living together for over four years in Emerald Bay, California. Their cordial cohabitation was snatched from them with cruel and sudden swiftness.  Her routine medical checkup in early August, 2019 detected unexpected signs of cancer. Within a week, an oncologist was diagnosing "ugly and aggressive carcinoma of unknown primary." Two courses of chemotherapy provoked severe side-effects and extended hospitalization. Dori passed away on October 23.
            Always honest with each other, Frank and Dori had already agreed as her death approached that he would need to begin making alternative living arrangements when left alone.  The house they shared was owned by her late husband's trust. The trustees had made clear they would want to proceed promptly with resale. With Dori's wrenching passing, Frank felt the need to get far away.
          In a series of phone calls with his son in Colorado and daughter in Kentucky, he explored a variety of temporary destinations. Eric persuaded him to come and stay with his family in Denver while Frank was in transition. Rebecca, Frank's daughter, warmly endorsed this suggestion, as did Eric's wife, Lauren. Frank was especially grateful for this insistent consensus; in his vulnerable state, he never had to feel he was imposing.
          The offer of familial hospitality was not only gracious but practical. Eric and Lauren's large Denver house included a furnished en suite guestroom in a finished basement. Both spouses worked full-time downtown. The kids (Audrey, 11, and Will, 9) were in private school and also had a full program of after-school activities — swim club, ski lessons and piano lessons. Frank could enjoy family togetherness but also privacy to begin his grieving and reorientation.
          Frank packed his possessions and was on the road from California by November 1. (He'd fly back for Dori's memorial service and inurnment over Thanksgiving weekend.)
          In Denver, he began settling in. He joined a welcoming Episcopal parish nearby, walked and biked to get acquainted with the neighborhood, and started looking for post-transition apartments.
          Enter the Dragon
          Frank acutely remembers Friday, March 13, when the coronavirus complicated everything. Colorado authorities imposed strict lockdown orders. Eric and Lauren immediately shifted to working from home. The kids too came home and stayed. That first evening, Eric said to the family gathered around the dinner table, we're all going to be living together in close quarters, from now on. Full-time. So let's agree to be especially patient and considerate.
          In a surprising way, Frank found pandemic restrictions improved the quality of his adjustment. Shelter-in-place gave him extra opportunities to make household contributions: by preparing breakfasts, dishwashing, helping coach the kids with their virtual studies, and taking a lead role in the garden, which he loved. Lauren's emotional support with his grieving during her extra at-home hours was especially healing.
          But the cloistering was also confining. A self-described extrovert, Frank loves meeting people and making new acquaintances. In his new church and on his daily walks, he had started interacting and chatting with adults beyond his family. The pandemic shut off those spontaneous contacts like a tap. Church gatherings were cancelled. Sidewalk encounters became masked and self-conscious. Frank sorely missed this restorative socialization.
          Getting Used to New Normals
          At the end of August, Frank, Eric and Lauren are rapidly accepting an extended pandemic timeline. Eric anticipates sequestration restrictions will last at least through mid-2021. While Frank had been looking for an apartment, his son and daughter-in-law came up with a more ambitious relocation proposal. They've bought a condo which Frank can rent at "a subsidized rate." This is a sound investment for them but also greatly upgrades affordable-housing prospects for him. This win/win transition will give the family an opportunity "to stay together but live apart." Escrow closes September 22 and Frank will move in shortly thereafter. After a therapeutic hiatus, he's looking forward to renewed independence.
          Bearing in mind seniors' unique vulnerability to the virus infection, hospitalizations, lingering after-effects of treatment, and fatality, I asked Frank about his pandemic concerns.  He replied that he's thankful for exceptional health insurance, earned during years of service as a Coast Guard officer and Kentucky public school teacher. He's building a roster of local doctors. Meanwhile, he and his family are extremely careful. Whenever they go out, they wear masks and maintain social distancing. Frank takes advantage of senior early hours when doing grocery shopping. They know the kids can bring the virus home, now that their schools have reopened with very strict protocols. Frank measures his temperature and oxygen levels twice daily. The parents take Audrey's and Will's temps every morning and report them to their schools.
          Now that COVID-19 may be spreading and surging throughout the United States for the foreseeable future, I asked Frank whether he was discouraged that the pandemic has complicated his already challenging senior transitions. He replied with a rueful laugh that he's had to cope with a "triple whammy": the sudden, shattering loss of a loved one, disruptive relocation and an invisible plague. But he's also philosophical and resigned, without being bitter. "At our age, there are no guarantees anyway. So we should make the best of what comes our way. Even a pandemic." That said, Frank is furious with what he interprets as President Trump's unconscionable mismanagement of the public-health crisis. With Lauren, he is working actively to get out the vote in November.
          Adjusting to his interrupted new normal at age 77, Frank is keeping physically fit with daily exercise. "I want to stay as active as I can, for as long as I can." He's increasingly involved in his reopened church. He has enlisted in remote grief-counselling from the hospice in Southern California where he and Dori had been active supporters. Regular telephone sessions are helping him greatly.
          He's also making a "real effort to reach out to and talk with friends I haven't contacted enough. We're all navigating these crises together. It's no time to drift apart."
MORE SUMMER-READING RECOMMENDATIONS
American Dirt by Jeanine Cummins
          The only thing I disliked about this thriller was its title; it sounded like a Hollywood scandal sheet or partisan polemic. The book is much better. The terrifying drama interweaves two narrative strands: a ground-level portrait of the sociopathic violence of Mexican drug cartels and a mile-by-mile journal of desperate northbound refugees.
          As a sign of the times, after attracting initial critical acclaim, this novel was attacked by some Latino authors and academics. Cummins's sin was not four years of field research or factual inaccuracies. The charge was cultural imperialism, "stealing" stories that only indigenous victims were morally entitled to tell. Judge for yourself. Don't defer to proprietary political correctness.  
Djinn Patrol on the Purple Line by Deepa Anappara
          Novels and even movies about slum life in contemporary India are increasingly common. What makes this mystery special is its detectives are children. When a series of pre-teens are snatched from the alleys of a shantytown, corrupt cops and local politicians see no profit in getting involved. Nine-year-old Jai and his "Sherlocks" draw on TV serials to launch their knee-high investigation. Anappara covered this beat as a Mumbai journalist. She writes with familiarity and conviction, animating stench, sounds and the choking smog. Empathy and respect for the crowded residents underpin her telling. This one is gritty and gripping.  
The Shadow of Vesuvius by Daisy Dunn
          It felt eerie to be reading this biography while inhaling slope-tumbling smoke. Dunn highlights up-close-and-personal impressions of a volcanic eruption in 79 AD, complete with an airborne avalanche of ash, toxic gas and pumice bombs. Her chief source is Pliny the Younger, a bookish teen when he witnessed the cataclysm. But the protagonist of his journal, which survived largely intact for 2,000 years, was his celebrated uncle, Pliny the Elder. A polymath, poet, historian and naturalist, the uncle was initially fascinated by the rising plume viewed across the Bay of Naples. But when appeals for rescue reached him from Pompeii and adjacent sites, he donned his other hat as Admiral of the Roman fleet and mobilized a flotilla to haul off survivors. In the process, he was overcome by fumes and perished on the shore.
          Pliny the Younger climbed the ranks of Roman leadership, ascending to the Senate and later serving as Ambassador and intimate of Emperor Trajan. I was intrigued that each pair of letters the emperor and ambassador exchanged between the imperial capitol and Pliny's Black Sea post consumed four months in transit for the two-way correspondence.  
          The Classical Romans resurrected here are no marble statues. In their own words, we witness ambition and obsequiousness, cheap shots and squabbles, even digestive rumbling. At times, Dunn's enthusiasm for bureaucratic machinations far exceeded my own. But she lifted breathing persons out of the stale chronologies I imperfectly remembered from school.
What It's Like To Be A Bird by David Allen Sibley
          For my taste, too many "bird books" are clannish and jargon-proud. Here's a splendid exception: accessible, educational and stunningly handsome. The author is an iconic ornithologist and illustrator. In this project he writes for the layman, synthesizing the latest scientific research in non-technical language. His tone is upbeat and inviting, at times even playful. The subtitle captures this spirit: "From Flying to Nesting, Eating to Singing – What Birds are Doing and Why."
          Sibley's 8 ½ x 11 format gives him space to set out dramatic, full-page, color portraits of 100 North American bird species. Incisive text passages, diagrams and sketches present a wealth of data in digestible bites, backed by citations to research sources for more ambitious readers.
          I most enjoyed his notes demystifying magical, mysterious bird behaviors. Sibley's writing clarity is as impressive as his technical expertise. Two samples make the point.  
          When Nancy and I lived in Pacific Grove, I'd often puzzled over the shape-shifting dazzle of compact bird flocks dashing along the shoreline. One second, a tight acrobatic squadron in neon white. The next instant, invisible. Then seen again, but this time without the sheen and zooming in the opposite direction. Sibley deconstructs the dance:   
The swerving movements of a flock of sandpipers in flight are among the most remarkable spectacles in nature, and recent research provides some insight. There is no leader – any bird in the flock can suggest a turn. The other birds see the change in direction, and if they also turn the reaction is transmitted through the flock at a constant rate (much like a "wave" in a sports stadium). A flock the size of a football field can change direction in this way in less than three seconds. Each individual bird just switches to the new direction, changing position relative to their neighbors like in a marching band. Turns are usually initiated by birds at the edges of the flock, and they usually swerve into the flock. Being at the edge gives them a better view of any potential danger, and also makes them more vulnerable to attack. Some turns are in response to actual danger, but many are likely just prompted by a desire to get away from the edge. As an edge bird gets nervous and swerves into the flock, the rest of the flock reacts. The result is a dizzying, swirling, unpredictable mass of birds that is very difficult for a predator to attack. Even if most of the turns are false alarms, frequent and sudden turns make the group safer.
And here's his take on North American birds' winter migrations:
Why migrate? There are many downsides: migration is dangerous and energy-intensive, and it requires extreme adaptations. Even brain size is linked to migratory habits. Large brains require a lot of energy, making them incompatible with long-distance flights, so migratory species average smaller brains. But about 19 percent of the world's bird species, and huge numbers of birds, migrate every year. Migrants are able to nest in areas with reduced competition and a burst of abundant food. Basically, they are traveling farther to get cheap food and lodging. The trip is not easy but the deals are so good it's worth the extra distance. The energy used to travel is paid back by the energy gained in the northern summer.
This encyclopedia artfully combines science with beauty and wonder. A marvel and a delight.
COMING, SEPTEMBER 30: Vacation and Evacuation During COVID-19