Up & Over: From Riverside to Tejon Pass (June 30, 2019)
Our first destination after Riverside was Big Bear Lake. We hadn't been there in 50 years. Our drive up into the San Bernardino Mountains was an abrupt reminder of the risks of ad hoc touring. Soon after starting off, we took a wrong turn and had to work together as a pilot/copilot team to navigate back on track. Next we detoured to a foothill valley heralded by a regional guidebook for its scenic apple orchards and hospitable roadside cafés. Both promised features proved a bust. The prolonged drought and high temperatures had parched the orchards. The cafés and their parking lots were crowded with weekend tourists, besides serving inferior, overpriced fare. This forgettable day ended in a colorless chain hotel in Big Bear Lake Village. But we accepted these setbacks as a cost of adlibbing. There are no guarantees when you make it up as you go along on the road.
The next day our luck turned delightfully better. I spotted an ad for a welcoming condominium resort. Our third-floor, lake-front apartment in Lagonita Lodge had a snug but adequate bedroom and bathroom, a living/dining room, a serviceable kitchen and a shoreline balcony. All this for $100 less per night than a boring chain hotel. It turned out that the large complex was fully booked with Los Angeles families on weekends but eager to fill vacant units at a discount during the week, precisely when we wanted space. Autumn timing further expanded our apartment choices. Thanking the gods that watch over elders, we reserved for a week.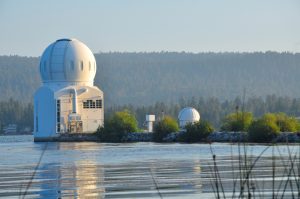 Directly across the lake from our balcony window was a structure that seemed to symbolize our good fortune. The Big Bear Solar Observatory gleamed like a white alien spaceship. The premier university-sponsored American observatory designed and operated specifically for studying the sun, this distinctive facility contains the most powerful solar telescope in the world. At 6,700 feet above sea level, it sits above a significant portion of the earth's image-filtering atmosphere. The surrounding lake waters and prevailing winds combine to produce a cooling effect, helping eliminate ground-heat radiation waves that would normally cause optical aberrations. [For fabulous images of the sun and a fascinating educational video, see "The Sun Watchers" on the Observatory's official website: http://www.bbso.njit.edu.]
Perhaps our apartment's most attractive feature was its do-it-yourself kitchen. We were soon disappointed and discouraged by most Big Bear dining-out experiences: inferior ingredients unskillfully cooked that somehow always seemed to tally $50/person (with tax and tip), even without counting overpriced wines. By contrast, a raid on a local quality supermarket garnered organic produce, fresh-baked breads and cheeses. We could eat better and more healthfully in our apartment and save another $100-200/day. We soon fell into a pattern of eating light breakfasts and dinners "at home" with lunches out and about.
Whenever moving around town, whether for restaurant meals, shopping or sightseeing excursions, we made a point of reaching out to interact with local vendors and service personnel. Sadly, shopkeepers and employees often remarked to us that they appreciated not merely our courtesy and respect but also our simply noticing them. "I'm mostly invisible," one cashier half-humorously conceded, "unless some client wants to chew my head off." One more opportunity for empathetic senior travelers, offering us an engaging combination of informative local insights and warm personal contacts.
Our week at Big Bear Lake was relaxing and restorative. We particularly enjoyed the wildlife and historical exhibits at the Big Bear Discovery Center, forest hikes on moderate trails, off-season shopping and a narrated lake cruise.
DOWN THE HILL
With recharged batteries, we were ready to begin our descent. Having selected a general direction and booked next-night accommodations, we kept our detailed itinerary open. This allowed us to take chances and detours, making the journey part of the adventure.
Highway 138 paid dividends from the get-go, as we plunged steeply off the ridge through the time-warp hamlet of Crestline. Any community that names its educational institutions Rim of the World Unified High School and Valley of Enchantment Elementary School deserves at least a drive-through. A blissful bearded pedestrian in the middle of the road confirmed the laid-back atmosphere with a cheery wave and mellow "Yo!' The surrounding slopes, all protected by San Bernardino National Forest, were thick with pines, cedars, oaks and firs, all lush from rain-shadow moisture.
At the bottom of the cliff-face, we paused at a very different scenic surprise. Lake Silverwood's 1,000 surface-acres seemed even larger, encompassing dozens of inlets and bays. We chatted up idle Rangers at this pristine State Recreation Area, totally deserted on this autumn morning except for ourselves and one picnicking family. The Rangers apologized for our missing the weekend barge tours observing wintering Bald Eagles. In summer, they reported, the Lake was so crowded with lowland boaters, water-skiers, fishermen, swimmers, hikers and campers that late-comers had to be turned away. Another magnet was a shoreline stretch of the 2,650-mile Pacific Crest Trail, linking Mexico to Canada through three Western States.
Driving northwest along the base of the San Gabriel Mountains, our leisurely route took us past horse and cattle ranches, surviving Victorian residences, creek beds and canyons. A proliferation of Korean-language signs hinted at a cohesive immigrant community. Here was a picturesque blend of old and new California, with unspectacular but handsome scenery. And we had it almost all to ourselves.
HOME STRETCH
Our destination for our last night on the road was Lebec, California, where CA 138 intersected with US5N. This north/south federal artery is now called the Tejon Pass. When I was a child in the early 1950s, it was called the Grapevine, to describe the winding route engineered to accommodate heavy trucks-and-trailers hauling Central Valley crops up and over the Tehachapi Mountains into metropolitan Los Angeles. I used to accompany my father, an L.A.-based produce broker, as he descended into Arvin to visit E.W. Merritt, one of Dad's clients who grew cantaloupes and honeydew melons.
I remember being enchanted by Fort Tejon, a crumbling outpost with an irresistible history, especially for a city kid. The fort was established in 1854 and saw only 10 brief years of active service. Its mission was to suppress stock rustling and protect arriving settlers from attacks by discontented "Californios" (pre-statehood residents) as well as Native American Paiute and Mojave tribes. It was originally manned by the First U.S. Dragoons, until these Union troops were transferred East at the outbreak of the Civil War. I recalled Dad telling me that the Fort had also served as the western terminus of the experimental U.S. Camel Corps, intended to ferry strategic supplies across the arid Southwest. The experiment failed because the soldiers found the camels stubbornly bad-tempered, spitting and spooking the troops' cavalry horses.
Our hotel's front-desk manager, while directly out of Central Casting with weathered jeans, a ponytail and a Stetson, wasn't much interested in our dining inquiries. But his local assistant took me aside and confidently promoted the La Sierra Café three miles up the hill in the hamlet of Frasier Park. When we pulled up in the dark, this roadhouse was hopping. The front room's Formica tables were crowded with families downing burritos and tacos. In the bouncing back room, a four-piece band was beating out old-time favorites for a delighted throng. "Elvira" and "Country Roads" summoned full-throated choruses. The apparent favorite, hands down, was "Little Red Riding Hood." When the band inveigled "You sure are lookin' good. You're everything a big bad wolf could want," the fans threw their hands into the air and shouted "Oooo!" Nancy was confident this howl paid homage to a needy wolf. To me, it conveyed a coy maiden's curiosity.
La Sierra's cuisine and staff were uniformly Latino. But the audience we could spot without rudely gaping were long-retired Anglos. The women were much bolder than their partners, dragging them up to dance or pairing with sisters when the menfolk proved too shy or lubricated. We wouldn't have missed the lupine harmony for the world.
OUR FIRST PEER PROFILE: JOHN PHILLIPS AND RANCHO CIELO