MID-YEAR MUSINGS (June 30, 2020)
MID-YEAR MUSINGS (June 30, 2020)
Marooned in June
            The core Shelter-in-Place component of the State of California's coronavirus containment strategy requires citizens to stay at home, except for limited categories of permitted activities. Our retirement community's management has further narrowed those exceptions to essential (not routine) medical appointments. CCRC residents going off-campus for such appointments must notify the administration in advance and then self-isolate for two weeks of apartment quarantine on their return. The rationale for this stringent lockdown is to prevent exiting residents from bringing the virus back into our vulnerable elder village; 14 days is the virus's average incubation period.
            Nancy and I came under this regime on May 28 when she had to go out for a face-to-face appointment with her Stanford Health dermatologist. (A prior video consultation had confirmed a potentially problematic skin growth.) I synchronized quarantines by scheduling my semi-annual post-cancer blood-test at the same facility on the same date.
            We both found we enjoyed the excursion, our first trip off-campus after 10 weeks in lockdown. I was surprised to see so much auto, bike and foot traffic, having forgotten that the State and County had recently initiated phased reopening. It was fun to be moving out and about, reacquainting ourselves with routes and landmarks, noticing changes in roadside vegetation.  The large Stanford medical complex was nearly deserted; their administration was apparently spacing appointments to facilitate social distancing. Nancy had a good session. Her doctor removed the growth and sent specimen tissue for biopsy. She later learned it was benign.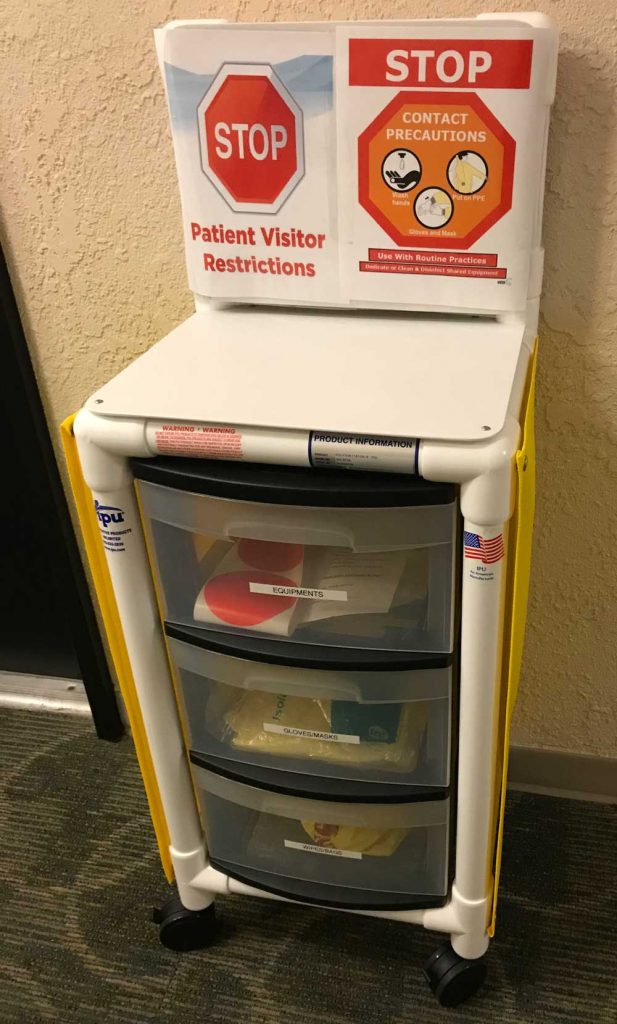 Back at our retirement community, the clinic nurse came to our apartment and initiated quarantine precautions. She took our vital signs and ensured we were experiencing no virus symptoms. A portable cart of Protective Personal Equipment was placed outside our door for nurses' visits, and special trash receptacles were put inside for daily removal. Key requirements were remaining within our quarters 24/7 and putting on masks whenever a nurse or other staff came inside. In place of our normal twice-daily campus walks, we were encouraged to move around the apartment at a good clip, lifting weights for extra brownie points! (As it turned out, I quickly grew bored with bedroom to kitchen step-counting and lapsed into aerobic sitting.)
            Nancy and I found the confinement easy to tolerate, without discomfort. Even before quarantine we'd grown accustomed to restricted-to-campus isolation. Suspending our campus walks would be a temporary deprivation, but we understood the necessity, and a fortnight was not an eternity. With each other's company, meals and groceries delivered to our door, books to read, and TV and the internet giving access to entertainment, this was soft sequestration indeed.
            In the world outside, civil turmoil rapidly escalated, sparked by the police killing of George Floyd, an explosion of nationwide street demonstrations and the President's disastrous Lafayette Square walkabout. But inside four walls, we were even more insulated than usual.
            Our quarantine isolation was interrupted on June 1 when a team of San Mateo County Health Department professionals arrived in PPE gear to administer COVID-infection tests to community residents and staff. I found the nasal probe surprisingly uncomfortable, but the process was quick (2 minutes per person), competent and cordial. More important, all 277 residents tested negative, and only one of 163 staff members tested positive. (She was quarantined at home, monitored, retested (this time negative) and cleared for return to work.)
            Our own good health, lack of symptoms, and negative test results combined to win us release two days early from quarantine.  Even without this dispensation, isolation had passed quickly, free of claustrophobia.
            The single downside from this quarantine experience was that my Stanford blood-test revealed a detectable PSA score, following 18 months of remission. In a June 8 video consultation, my trusted Stanford radiation-oncologist downplayed the need for concern at present. My score was at the lowest end of the detectable range. It might only require monitoring without treatment. Even with treatment, we had lots of options, and he assured me I had several more years of life to look forward to. We'll test again in three months. In the interim, my homework assignment is to maintain a nutritious diet, keep walking and avoid worrying.
Back in Circulation
            During June's second half, we've been pleased to resume our twice-daily program of walks around campus gardens, woods and meadow. We're now free to savor our patio and recently planted border, especially in cooling evenings.
            Nancy's chief focus has been launching her new blog. Titled WHERE IN THE WORLD?, it shares excerpts from journals and letters home during 50 years working and living abroad. Maps and contemporary photos help re-animate the past. It's a treat for me to follow this unspooling thread – from a West Virginia undergrad's on-arrival culture shock in India, through a young professional's formative fieldtrips in Afghanistan and East Africa, to decades of sojourns in Somalia, Guyana, Pakistan, Central Asia and Italy. I'd thought I'd shared most of her adventures. But of course she'd been off on dozens of separate projects while I was doing my own. And even when we'd experienced a location together, her perspective was singular and distinctive. Great fun in the telling and the reading. Living history at www.nancyswing.com. (Click on the blog title in the home page's upper right corner.)
            In addition to tending my blog and faithfully tuning in to streamed Metropolitan Opera productions (Week 15!), I've been increasingly attracted to educational webinars. Two offerings from the Asia Society's Northern California Chapter were particularly appealing in June. Max Erdstein's low-key but insightful talk was titled "Being Fully Alive: Mindfulness Meditation for Difficult Times." I kept thinking of Agile Aging as he described mindfulness as living moment-to-moment: being aware, open, present and fully alive to our own experience. Meditation, in this context, is an invitation to enter into the present moment. Erdstein encouraged meditators to envision moving inwards through a series of concentric circles, examining and then surrendering each focus: thoughts, feelings, physical sensations and then breath. The target destination is not cat-napping but alert stillness.  With practice and discipline, he assured us, residual benefits can include enhanced serenity and compassion. I'm giving it a go on our patio at twilight. A restorative respite.
            More secular was Michael Schuman's provocative discussion of Chinese history from a Chinese perspective. Relying on original source materials, his new study, Superpower Interrupted, attempts to help Westerners better understand how the Chinese perceive their own legacy; and how, against that historical background, they assess their country's regional and global 21st Century role. Among his conclusions: the current Chinese Communist Party sees itself, and is seen by its subjects, as the latest in two millennia of ruling dynasties, with Xi Jinping as a de facto Emperor. In Schuman's opinion, the most successful dynasties, most notably the Tang, were "ecumenical" in welcoming foreign expertise. And the most enlightened national leaders made room for minorities residing within China's borders without insisting they be "Chinese." (A worthy precedent for granting cultural identity and respect to the Tibetans and Uighurs.) As a Zooming novice, I marveled that this author was introduced by a moderator in San Francisco, spoke to us from Hong Kong, was interviewed by a journalist in Beijing, and answered listeners' questions from around the world, all in real time.
For fellow locked-down bibliophiles, here's a basket of books I've been enjoying in June:
Alexandra Armstrong and Mary Donahue, YOUR NEXT CHAPTER: A Woman's Guide to Successful Retirement. Expert advice, accessibly presented. Nancy and I have benefitted from Alexandra's professional counsel for 35 years.
Max Brooks, Devolution. Mount Rainier erupts and here come the Sasquatch! Lots of science underpinning and enriching fictional thrills and chills.
Thomas Cahill, HOW THE IRISH SAVED CIVILIZATION: The Untold Story of Ireland's Heroic Role from the Fall of Rome to the Rise of Medieval Europe. Retrieving and celebrating a fascinating historical bridge.
Valerie Hansen, THE YEAR 1000 – When Explorers Connected the World and Globalization Began. Fab world-wide survey of pre-modern voyaging.
Guy Vanderhaeghe, The Last Crossing. True Grit meets the Hudson's Bay Company. Frontier drama without Hollywood hokum.
Lawrence Wright, The End of October. Published short weeks before the global spread of COVID-19, this uncannily prescient public-health thriller features an Asia-generated coronavirus pandemic, a preoccupied White House in denial, and Saudi Government  agonizing over whether to cancel the hajj.
            Looking around our retirement community in the second half of this month, I'm discerning three trends. Numerous residents seem to be growing restless, chafing at restrictions like mask-wearing and social-distancing, and exchanging gossip about "more liberal" isolation regimes in other CCRCs. Our management has started rolling out modest relaxations, like reducing the duration and formality of on-return quarantines and choreographing staged reopening of the campus library. It's also difficult to miss the increasing number of vacated resident parking slots, possible evidence of quiet withdrawals to second homes or family reunions.
            For footloose Californians in particular, it's no surprise we're missing our autos after three months of enforced immobility. One neighbor half-jestingly wailed, "I just want to drive!" In this climate of indefinite deprivation, even a mundane errand to the doctor's office can be stimulating. But, of course, fantasizing about bona fide road trips can be immeasurably more enticing. Media pundits are not shy about offering cautionary checklists. Plan ahead to identify, and preferably detour around, pandemic hotspots. Pack lots of hand sanitizer, extra masks and prescription meds. Reserve safe en-route accommodations in advance. Scrupulously maintain social distancing. Avoid crowded interiors – restaurants, for sure; public restrooms, if possible. Stay in your car; when you must venture out, wipe every surface.
            Friends Bob and Valerie personalized this abstract regimen with their notes from a recent dash up the Sierras' eastern flank, migrating from winter to summer lodging:
We rigorously planned each stop, e.g., calling a bakery in Bishop to prepare a take-out lunch. Calling Red Lion to quiz them on overnight-room cleanliness. Getting morning coffee and a breakfast sandwich in a Starbucks drive-through. Going to a grocery store at 7am for its uncrowded opening. Wearing masks and using disposable gloves everywhere. (Everyone in the small towns we visited wore masks.) We checked the COVID data for every town along the way. And happily checked and rechecked each other's precautions. Most important, we packed a big cooler that kept us well-fed and hydrated. No restaurants.
And because they are irrepressible, "It was delightful."
Double, Double Toil and Trouble
            At the year's mid-point, I'm feeling superficially content and subliminally apprehensive. As the preceding sketches of webinars and road-trip fantasies confirm, our retirement-community lifestyle remains more than comfortable. Campus facilities are attractive and well-maintained, support services generous and medical protections vigilant.
            As I've been reporting, COVID-19 Sheltering-in-Place has required logistical adjustments: meals delivered to our apartment door instead of taken in the community dining-room; walking within the property's perimeter instead of in more expansive Open-Space Preserves; practicing full-time social-distancing and mask-wearing in public spaces; accepting temporary quarantine when returning from essential medical appointments. But even factoring in these prudent restrictions, for me daily life within our elder village can be characterized as nearly normal. (If trips were allowed for all purposes and on-return testing could somehow replace quarantines, I could tolerate this package for the long haul.)
            Looking beyond this protective perimeter, however, my attitude shifts from reassured to alarmed. California's new coronavirus case and hospitalization rates are disconcertingly resurging, likely driven by undisciplined social distancing. Governor Newsom has mandated mask-wearing in all public places and placed 15 counties, including Los Angeles, on a high-risk reopening "watchlist." By most experts' projections, vaccine distribution in less than a year is unrealistic.  Economists have begun forecasting a Second Great Depression, with renewed stimulus relief stalled in a dysfunctional Congress. Nationwide Black-Lives-Matter protests are demanding overdue accountability for police violence, broadening to call for recognition and reform of systemic racism. But law-and-order conservatives, taking their cues from the Bully Pulpit, are aggressively pushing back. And if tinder is needed for this volatile mix, hottest-ever summer temperatures here in California may spark catastrophic wildfires.
            To be sure, the turbulent environment surrounding our privileged CCRC enclave is not yet in chaos. Local public- and private-sector institutions and leaders continue to labor for consensual problem-solving. Beyond uneven, inconsistent local initiatives, however, I'm convinced that fresh presidential and senatorial leadership will be necessary for transformational change. Time is short and the conjunction of synergistic crises is daunting. Having devoted a 40-year career to advising foreign governments on institutional development, I am shocked in retirement to witness my own country risk imploding as a Failed State. My chief concern, four months out, is that a disrupted election, with disputed results, could provoke armed factional conflict spinning out of control.
            Agile Aging advocates equanimity and mature engagement. This is one of those moments challenging concerned seniors of all political persuasions to get constructively involved.