MOVING IN: A New Year, A New Home, A New Life Chapter (Jan 31, 2020)
MOVING IN: A NEW YEAR, A NEW HOME, A NEW LIFE CHAPTER (January 31, 2020)
My December 15 blog post, "Moving On: Transitioning to a CCRC," introduced Nancy's and my search for a senior residential community. At year's end, on an accelerated timetable, we made our move. I'd like to use this paired January post to pick up the narrative thread, sharing highlights of our relocation experience plus some first impressions of our new home and lifestyle. Here's a journal of transitional steps and stages.
Central Coast Goodbyes
       We were deeply touched by the kindness of Monterey Peninsula friends, hosting lunches and dinners to say au revoir. We all talked candidly at these gatherings about our respective senior residential plans. What I expected less but appreciated more was that somehow our pending departure seemed to spark opportunities for unprecedented intimacy and bonding. It was as if we were all tacitly aware that we might never again be together on the same neighborly basis, so these last shared moments ought not to be squandered on movie reviews or casual chitchat. Instead we quietly took advantage of these final moments to confirm our feelings for each other and what we care about.
       Less layered but also gratifying were my partings from local vendors and merchants. I made the rounds saying goodbye and sharing hugs with some of my favorite commercial pals – Fred the barber, Matt the bank manager, Charlie the grocer, his granddaughter Christie and produce manager Salvatore.
The Movers Are Here!
       December 26, 8:10 a.m. The moving van backed into our driveway 20 minutes early. Nancy and I were still jumping with last-minute preparations. But no cause for panic. By rough calculation, we'd moved twenty times before during our marriage. And this moving- company's project manager had already made a room-by-room site-visit weeks in advance, agreeing with us on what they would pack and take, how they would protect it, how much time and cost would be required.
       Today we'd all execute the plan. After brief introductions, the movers' crew spun into action like circus roustabouts dismantling a big-top. Truck-loading ramp extended and locked. Small metal bridges laid down to support dollies' passage from patio to porch to living room. Three-feet-wide carpeting strips unrolled throughout the house to protect the floors. The few boxes Nancy and I would carry in our cars segregated from the main body of items to be loaded in the truck.
       I loved watching the movers do their thing. Four skilled workers dispersed throughout our house and garage, one of them the veteran team leader who had moved us once before. Large pieces of furniture were wrapped in padded blankets and wheeled first to the truck. Legs came off desks to ease them through doorframes. Bed frames, slats and mattresses were disassembled and whisked away. Cardboard boxes were squared up in seconds, using magical tape-guns to seal the seams. Fifty-pound stacks of clear newsprint shrank as sheets were peeled off to wrap each dish and appliance, lamp and shade, snugly securing breakable items in an assembly-line of boxes. Sharpie pens flashed to label box contents and apartment-room allocations at our destination. Bilingual banter filled the air but these guys worked at top-speed, pausing only for mid-morning coffee. The focused crew stripped our entire residence – from basement to garage – in four hours. The final contents lifted gingerly onto the truck bed were potted plants for our apartment patio, each buffered in protective cartons.
       Suddenly our home was an empty shell. No time for sighs or tears. Too much to do. The load would lay over in the moving company's secured warehouse for onward delivery the next morning. With 100 miles between house and apartment, this was slightly too far for a single-day pack-and-unpack operation. Nancy and I would drive our own cars north, overnighting en route, and meet the movers at our senior community. After second-day delivery, while Nancy began unpacking, I'd return to Pacific Grove on the third day to supervise professional cleaning of our vacated house, before turning over the keys to our landlord. Barring earthquakes or alien invasions, we would welcome the New Year in our new home.
On the Road
      We had good luck with in-transit weather and traffic. Pacific gods granted a reprieve between forecast storms. And our mid-day departure time gave us a window between rush-hour traffic jams. Since Nancy drives a Fiat, we decided to avoid the danger of high-speed Interstates and instead travel north along the coast, then up and over the coastal range to our Bay Area destination.
       Fortune continued to smile when we chose mid-journey lodgings. In Santa Cruz, the Paradox Hotel booked by phone turned out to be an attractive, innovative Marriott boutique property with forested atriums, a gourmet restaurant and an exceptionally welcome senior rate. After a long day packing out and starting our journey, it was splendid to shower, eat on-site and collapse into bed.
       The next morning, our two-car caravan resumed with caution due to icy-road warnings but we were delighted by our scenic route. The tall forests and rushing river were beckoning, as if blessing our relocation adventure. Up through Coast Redwoods on State Highway 9 through Felton, Bonny Doon and Boulder Creek. Then left, due north, along Skyline Boulevard to Page Mill Road. A sharp right turn and hairpin switchbacks zoomed us down and out of the hills. As we started our descent we flushed six giant wild turkeys, sauntering across our path with an implicit admonition to slow down and enjoy the scenery. One further squiggle and the cloudbank parted to showcase a spectacular vista – San Jose skyscrapers sprouting from the distant plain, framed by brilliantly reflecting inlets coalescing to form San Francisco Bay.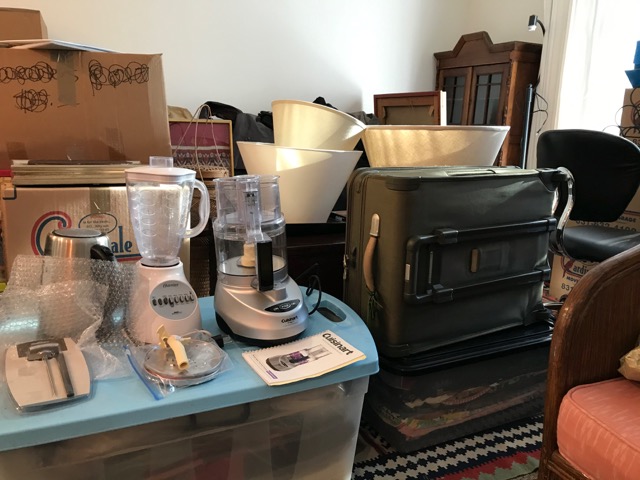 At our senior-community destination, we rendezvoused with the movers' crew from the day before. Together we worked for hectic hours in our new apartment, organizing furniture placement, reassembling beds and desks, and distributing daunting pyramids of boxes. Gracious new neighbors stopped by to wish us welcome. The community's administration delivered a handsome arrangement of potted orchids. By mid-afternoon, the movers' van was again empty, bill electronically paid, workers thanked, tipped and freed to drive back to the Monterey peninsula. Suddenly solitary and still, Nancy and I had truly arrived.
Settling In
       As I type these notes three weeks from that moment, the interim has been action-packed. As with any new dwelling and community, there are dozens of services, relationships, schedules and procedures to discover and digest. Apartment and mailbox keys. Designated parking slots and bumper stickers. An intramural phone system and notice boards. Electronic fobs to log in for dining-room meals and pendants to summon assistance in a medical emergency. With a comprehensive Residents' Handbook as our primer, Nancy and I are steadily finding our feet.
       Hospitality has been remarkable. Fellow residents, led by the neighbors in our building and an official Welcoming Committee, have offered daily help with our orientation, as well as a cascade of dinner and lunch invitations. The sociable spirit was immediately conveyed at the residents' gala New Year's Eve celebration. Champagne flowed and a festive combo lifted spirits. Two nonagenarians, one in dress kilt, led the dancing. A tall, new neighbor even reminded me that he and I had been fellow groomsmen at a wedding 50 years ago!
       The community administration has been equally generous and accessible. We've met managers of Resident Relations, Maintenance, Landscaping and Housekeeping and received prompt, responsive service from their respective staffs. Housekeeping crews clear our cardboard boxes as soon as we empty them. They drove a silent but sturdy electric cart to schlep our bins of tax records and empty suitcases to our basement storage locker. The multitalented handyman swapped out an under-counter refrigerator/freezer for a more useful two-drawer fridge. With a deft touch he anchored bookcases to walls as anti-earthquake insurance and helped us hang artwork. Already we're coming to treat weekly house-cleaning and linen service as normal. And my copy of the New York Times materializes without fail every morning at my door.
       As expected in any residential complex, especially one embarked upon an ambitious renovation program to update 60-year-old infrastructure, we've encountered a few logistical challenges. During our first week in place, a system-wide central-heating failure chilled all community residents. Soon afterwards, our high-tech apartment thermostat pushed room temperatures to 87F. (It's now been replaced by a less sophisticated but more responsive manual control.) And our induction cooktop turns out to reject all pots and pans other than stainless steel and cast iron, a costly surprise. Still and all, these quarters are so much more comfortable than most Nancy and I occupied during our overseas careers, we're delighted to be here.
An Elders' Village
       Community
       Our new community is a closely integrated village of animated elders. Three hundred seniors reside in Independent-Living garden apartments. Another 50 residents are short- or long-term occupants of the on-campus medical facilities. The Independent residents include about 50 couples and 200 singles. Women outnumber men by roughly two-to-one. The average age is 78, with several lively residents well into their 90s.
       Most of our neighbors are retired professionals, including several emeritus professors and administrators from nearby Stanford University, as well as former engineers and executives from Silicon Valley. Many were former residents of surrounding towns. Several were encouraged to move in by the satisfaction of friends or relatives already living here.
       The community dining room is the chief hub of villagers' interaction. Everyone sits together at tables for four to eight. Most residents seem to welcome this schedule and service, contracting for three-meals-per-day. Others, like ourselves, have signed up for only one meal per day, preferring to regularly cook and eat "at home."
       Residents are actively engaged in community management. Early in our stay, we participated in a monthly Residents' Meeting. It was well attended, crisply facilitated and buzzed with Committee Reports – finance, dining, landscaping, life-long learning, health, entertainment, etc. The atmosphere was refreshingly more orderly and totally less confrontational than a Pacific Grove town meeting.
       The prevailing high energy and engagement are further evidenced by the quantity and quality of community activities. No bingo and shuffleboard here. Instead, there are on-site musical performances by imported professionals. Movies, lectures, discussion groups and book clubs. Also organized excursions to Bay Area cultural institutions and events. Even international group tours. In our inaugural month of January, Nancy and I have marked our community calendars with three concerts in the campus auditorium, one movie, one science lecture, and one regional excursion. We have the impression that most of our neighbors are at least equally active.
       Health Care
       Alongside its cordial community ambience, the other main factor that led us to select this CCRC was its affiliation with, and proximity to, Stanford University Health Services. So one of our first initiatives on moving in was to activate that relationship. We've enrolled in Stanford Health's nearby satellite clinic as our Primary Healthcare provider and are already utilizing its services.
       Ownership and Operation
       We're also learning about this community's intriguing history. Like several of the facilities Nancy and I visited during our field research, our CCRC was established in the mid-20th century by a religious denomination, primarily to serve its aging parishoners. Its ownership has since devolved into an independent non-profit corporation and expanded to operate seven elder residences. This portfolio encompasses three CCRCs plus four properties and non-residential community-service programs supporting low-income seniors. Overall, this integrated system serves 1,900 residents and 2,300 non-resident clients with a professional staff of nearly 700 employees. We've met a number of contented staffers who've been working at our CCRC for two or more decades.
       Campus
       Our campus is a landscaped 42-acre site with structures and gardens designed and erected in the late 1950s. Landscaping, buildings and connecting arcades all reflect an American interpretation of Japanese style. Stately Coast Redwoods anchor the grounds. East Asian-inspired plantings feature camellias, azaleas and red maples. Corporate recognition of California's intensifying water shortages is promoting landscape transitioning to drought-resistant plants. The extensive gardens remain meticulously maintained. Thirty residential buildings contain garden apartments ranging from studios, to one-bedroom, two-bedrooms, duplexes and a few freestanding cottages. Each apartment has a small patio. Everything is one-storied and ramp-accessible, to reduce risk of falls by senior pedestrians. Shared facilities include an expansive residents' lounge, "neighborhood parlors for entertaining on a smaller scale, a library, an auditorium, seminar rooms, a gym and swimming pool, and arts and craft studios. Keeping pace with changing tastes, a coffee bar is planned for installation in the lounge.
       One geographical feature that's immensely appealing to Nancy and me is the nature preserve located one hundred short steps from our apartment door. A sprawling plot owned by the county, this inviting sanctuary includes redwood forests and sloping grasslands as well as panoramic vistas. It provides a protective habitat for deer, coyotes and the occasional mountain lion. On New Year's Day, I ventured into this park for my first exploratory trek. Not surprising on the holiday, there was a large turnout of hikers, ranging from young couples with kids and pups to resolute seniors with hiking sticks. Passing by a large pond of audible attraction to birdlife, I ascended gradually through an oak and eucalyptus grove to emerge on an open hillside affording a glimpse of the distant Bay. We later learned that a small band of intrepid residents from our community climbs to the 2,000-foot summit every New Year's Day to celebrate the transition with a picnic.
Lifestyle Adjustments

       Downsizing
       As emphasized in my prior blog post, from the outset of this transition project Nancy and I realized that major downsizing would be required. As it turned out, we've shifted from a 1,250-square-foot cottage with a two-car garage requisitioned for storage to an 860-square-foot apartment with a modest storage locker. Probably a 50% reduction in overall living space. Easing this compression have been the thoughtfully designed and generous closets in our new quarters. But there's still a lot of choices involved in deciding what can be kept and where it can fit.
       It helped that we took most of our downsizing decisions in advance, before the move, retaining only "essential" furniture, clothing and accessories and allocating all discards to an estate sale, garage sale or charitable donations. In only a few cases did we bring with us duplicate items (like end tables) to see which in fact looked and worked best in our new place.
       After a lifetime of international postings, we'd accumulated a mini-gallery of cherished arts and crafts. Letting most of these "treasures" go took determination. But we realized we could carry memories without baggage. And we hoped that estate-sale buyers selecting these mementos would be knowledgeable and appreciative. We also built bridges between old and new lodgings by retaining a few pieces that resonated for us with deepest meaning. In this same spirit, we gave new life to hand-loomed fabrics collected in Laos 30 years ago by reupholstering chairs and cushions. But our overall strategy was to reduce the quantity of our possessions, adjusting to compact quarters that embody a simplified senior lifestyle.
       Our new patio will add a cozy outdoor room in warmer weather. We've brought with us an assortment of potted plants, have procured some rain-proof furniture and are working with the community's landscaping stewards to plan locally appropriate plantings for our garden beds.
       Blending Engagement with Privacy
       Nancy and I are introverts, without children or grandchildren, who have always valued our solitude. We genuinely enjoy socializing with friends and neighbors but also welcome quiet time to recharge batteries after group activities. Our new CCRC village's intensity and abundance of resident activity resembles a humming hive. The community culture seems to strongly encourage social interaction, participation and volunteering. Even slow-paced pedestrians, dependent on walkers, are enthusiastically mobile, utilizing the covered arcades and contiguous pavements to wheel to workshops and recitals.
       Having just moved from a secluded cottage surrounded by 3.5 sea-view acres, we're finding this up-close dynamism both admirable and unaccustomed. Empathetic neighbors have assured us they experienced their own varieties of on-arrival adjustments. Several are advising us to take our time easing into new activities and affiliations. Piano, piano, as our Italian friends used to say.
       As we begin to acclimatize to our new village, we're also exploring off-campus surroundings. The cluster of nearby cities and towns in this area – Menlo Park, Palo Alto, Portola Valley, Redwood City, San Jose, Santa Clara and Woodside – is attractive and inviting. Identifying grocery stores and pharmacies, banks, coffee bars and restaurants, hardware stores and drycleaners is mundane but entertaining. There's also a wealth of accessible educational attractions. Already I participated in an exhilarating Asia Society conference forecasting future relations between China and USA. World-class experts discussed a timely topic of critical interest to us all – a 20-minute drive just down the road.
Bottom Line on First Impressions: A New Phase, Not Just a New Place
       Our CCRC is offering us a rich fabric of assets and attractions. Institutionally, it's a thoughtfully designed and professionally managed senior sanctuary. In human terms, it's a cordial community of accomplished, sociable neighbors. On the cultural front, we'll have unprecedented access to A-Team performing arts, both on-campus and by sponsored transport. Equally appealing, aesthetically and for keeping fit, are the handsome gardens and adjacent trails. My desktop view features two ancient redwoods with six-foot diameter trunks.  
      One quality of this environment that I'm finding especially admirable is our new neighbors' candid acceptance of aging. Many openly acknowledge their hearing impairment, memory loss, digital tremors or creaking limbs — always without embarrassment, often with wry humor. The shared, implicit motto seems to be "This is how old age looks and moves. This is who we are." No shirkers, complainers or sissies on this campus. Hearty camaraderie, not false or manic gayety, seems the core communal response.
       As a corollary, Nancy and I are acutely and daily aware that this community is highly privileged. Not only are the residents able to pay the substantial entry and monthly fees. Our lifestyle is supported by a huge team of support staff, mostly immigrant. It's essential to appreciate and acknowledge those workers as keys to our comfort.
       As an extension of that recognition, I'll be exploring how to retain my involvement in the roiling turmoil of state, national and international affairs. Especially in this American election year, turning exclusively inward to chamber recitals and the lap pool is not responsible. After a career in international development, I'm dedicated to staying committed and connected to society at large.
       Bottom line: we are immensely fortunate to have landed here. This vibrant community can deepen and broaden our final stage of life. But it's not a self-contained enclave. Just as agile aging is going to require attentive balancing of intramural fellowship with restorative privacy, it must similarly encompass a healthy component of sustained extramural engagement.