REACHING FOR BALANCE (June 30, 2022)
REACHING FOR BALANCE (June 30, 2022)
As mentioned in my May 31 post, I've been working on restoring a healthier balance in my life. This includes making time and space for positive activities and feelings, plus treating each new season as a fresh beginning with inviting opportunities.
In this spirit, let me share with you four agile-aging explorations I've undertaken in June. Two examined differing perspectives on the milestone of turning 80. Another studied four-legged firefighters. The last one carried Nancy and me to a forest sanctuary.
Intimidating political and economic turbulence swirls all around. I'm trying to keep hope alive and feet on the ground.
OCTOGENARIANS
Most of my educational pals are turning 80 in 2022. This milestone seems to be taking on new significance in American culture. Retirement may still mostly begin at 65. But in an increasingly active society, old age is being bumped to 80. Here are two manifestations of this threshold that I encountered this month. One was national and macro, a journalistic report on surprising elder attitudes. The other was regional and micro, a Zoom conversation among my college classmates who are based around San Francisco Bay. In the first, participants focused mostly on today and tomorrow. In the second, they mostly looked back. I found the juxtaposition intriguing.
            The AARP/National Geographic Study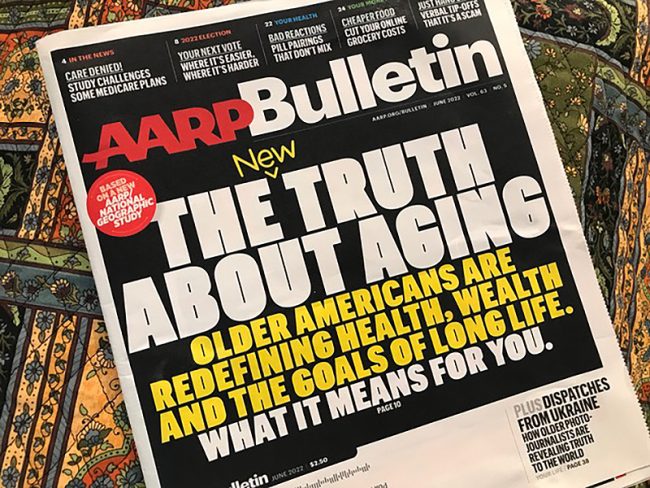 The cover story of AARP's June newspaper (aarp.org/bulletin) trumpets an all-caps headline: "THE NEW TRUTH ABOUT AGING." Even allowing for this organization's institutional bias as an ardent advocate for elders' political and economic interests, this report was informative and provocative.
The 2022 national research project that's the subject of this article was a joint venture between National Geographic and AARP. Its overarching subject was "How Americans perceive aging as we emerge from the COVID pandemic." Its main components spanned health, personal finances, happiness, relationships, life stages and fear of death. The statistical sample of respondents encompassed adults from 18 to 90, from a full range of "backgrounds, demographics and ethnicities." (In the data summaries, age sets were grouped as 20s and 30s, 40s, 50s, 60s, 70s and 80+.)
From my blogging perspective, by far the most interesting finding was the consistent distinctiveness of attitudes of Americans 80 and above:
This oldest group was least interested in taking a hypothetical life-extending or health-extending pill.
It was tied for the highest proportion of respondents rating their overall health very good or excellent.
It had the highest proportion of respondents taking steps to maintain personal health (sleep, heart, weight and physical stamina).
It had the highest proportion of respondents rating their financial situation as very good or excellent.
It tied for the lowest proportion concerned about having enough money to take care of themselves.
It was the happiest group, giving the highest rating to their overall quality of life (yet nearly least optimistic about their future.)
It attributed the highest satisfaction to relationships with family and friends.
It was markedly least afraid of death.
Given the daily concern of most of my friends, my wife and myself about national and international affairs, I was surprised by the pervasive contentment expressed by the eldest participants in this survey; especially since socioeconomic differences were apparently factored in. The optimism response may hold a key. One interpretation of this single negative rating is that elders are focused on the present, less preoccupied with the future. To be flippant with a purpose, "Maybe the world is going to hell in a handbasket, but I won't be around to see it get there."
Another interpretation was equally pragmatic. Although 80% of Americans in their 80s are living with one or more serious or chronic health conditions, one expert commented "There's a survival benefit to resilience. People can reframe their situation and make the best of it. Besides, health is multi-dimensional."
From another perspective, if these survey data were collected at the very beginning of this year, before Putin's invasion and inflation's explosion, that timing might go a long way towards explaining the responding octogenarians' relative self-confidence.
Another qualifier is that the bulleted ratings are comparative, not absolute. For example, while over-80s are least concerned of all groups that they'll have enough money to take care of themselves, still, 38% of survey respondents in this eldest group were "extremely or very concerned".
It's always facile to read too much into a single survey. But I must say that this snapshot of American elders' current attitudes did not conform to my expectations. Even within the highly privileged walls of our Continuing Care Retirement Community, I'd have anticipated a much bleaker profile.
I come away asking myself, what does it say about a society or era in which citizens in their 80s are much the most content of any age group? When I was young, my parents, brothers and I all expected that our younger generation would have more opportunities and a higher standard of living than my folks had experienced in the Great Depression and the Second World War. Mom and Dad dedicated themselves to ensuring that their three kids would "get ahead." And, despite Vietnam, that's pretty much how it worked out. In education and careers, most of my peers "did very well." Is our cohort's continuing relative contentment in old age a legacy of those front-end investments and advantages? If so, were those same advantages a historical aberration? Are today's younger generations objectively confronting more dispiriting constraints? Do those younger groups reasonably assess that national prosperity has peaked? What happened to America's cult of youth? Have creaking octogenarians displaced ambitious youngsters as America's tacit paragons?
            Yale Classmates Look Back
Eightieth birthdays were also the point-of-departure for another reflective encounter in June. Every month since COVID lockdowns intruded in the fall of 2020, a circle of Yale classmates residing around San Francisco Bay has been gathering for a Zoom chat. This time our convener, Owen O'Donnell, posed a discussion question sparked by crossing the octogenarian threshold: "Some of us have started our 9th decade and others will soon. 80 years is a long time. What in your opinion is the most significant event of the last 80 years?"
Twelve of our 17-member roundtable chimed in, on the call or via emailed submissions. Geopolitical milestones were overwhelmingly most popular. I was surprised by the leading choice. Joe Wishcamper spelled it out most persuasively: "My entry is the defeat of Nazi Germany in WW2. It ensured the defeat of Japan, secured the countries of Western Europe and established the position of Russia as the second great power. The effects of the post-victory arrangements are present 75 years later."  When I asked during Q&A whether Putin's invasion of Ukraine might have contributed to classmates' enthusiasm for this Cold-War-oriented response, Tony Lavely thought not. He judged that the key was the sustained and spreading influence of the end-of-war inflection point.
By coincidence, Nancy just came across a parallel argument for the sustained and expanding influence of the Russo-Japanese War. Take a look at David Gioe, "WHAT A 1904 WAR CAN TEACH VLADIMIR PUTIN: The Russo-Japanese War led not just to an immediate revolution, but to deeper and longer-lasting change years later." The Atlantic, June 23, 2022.
In our June 22 discussion, two more political events garnered multiple votes: the assassination of JFK and the air attacks on 9/11. Mike Sherwood commented that the assassination "shook not only the country but me personally and awakened me politically." Tony labeled this 1963 milestone "the end of the Age of Innocence." Recalling 9/11, Steve Bingham said "its effects will continue to redefine our relations with the non-European world for decades to come."
Although politics dominated our group's responses, scientific breakthroughs also garnered support, especially looking forward to their anticipated expanding impact. The 1989 invention of the internet was discussed at length, as was the 1987-2007 evolving development of CRISPR.
Several classmates introduced a personal dimension to these global exchanges. My favorite contribution, for sentiment and style points, was submitted in advance by John Wylie: "The most influential personal event was proposing to my wife in 1971, on a sweet summer evening on the wide-open-tabletop of the World Trade Center's North Tower, where I was a construction-site physician. As all Manhattan glittered beneath us, she said 'Yes!'"
Ron Sipherd sounded the lightest note. "No one mentioned Dylan going electric."
My own candidates for the most significant event were Newt Gingrich's no-holds-barred assault on Congressional bipartisanship in 1993 and the frustrating failure of national and international governments to seriously address climate change. But while putting oneself at the center of history is hubris, I must say I'm also pondering the historical impact of this week's paired SCOTUS decisions – sharply narrowing New York's restrictions on carrying concealed weapons in public places and rejecting a 49-year precedent granting a Constitutional right to abortion. Both decisions had been expected, since Trump appointed three highly conservative judges; or before, when Mitch McConnell blocked Merrick Garland's nomination. But these defiant assertions of conservative dogma–one trampling states' rights, the other elevating them, both defying strong citizen majorities–may force a declaration of political war, with the November 2022 Mid-terms as the battleground for first hostilities.
Whether or not you share my foreboding, you may find this article challenges your assumptions: Ronald Brownstein, The Atlantic, June 24, 2002. "AMERICA IS GROWING APART, POSSIBLY FOR GOOD–The great 'convergence' of the mid-20th century may have been an anomaly."
OUT AND ABOUT
            Green Escapes
There's a political cliché, "Where you stand depends on where you sit." I think of that when envisioning the county where our retirement community is located. In my mind, San Mateo County is urban and suburban. Occupying the southwestern shore of San Francisco Bay, our county hosts San Francisco International Airport, Stanford University and much of Silicon Valley. Pivoting my orientation away from this metropolis, I frequently need to remember that in fact most of our county's area lies on the other, coastal slope of the Santa Cruz Mountains. The sharp north/south ridge is a spine, dividing our county into dramatically different ecological worlds. With its sequence of steep forested canyons, agricultural plains, sheer coastal cliffs and Pacific beaches, the western zone is an alluring, accessible getaway destination for throngs of Bay Area residents.
One natural sanctuary we twice visited in June is the County's Memorial Park. This retreat encompasses 673 acres of Coast Redwood and Douglas Fir forests, eight miles of hiking trails and 300 campsites. Its creeks offer winter habitat to steelhead trout. Thanks to easements across private lands, Memorial Park trails are linked to a contiguous chain of two more steeped-slope county parks plus two state parks. 
California history can be chaotic and destructive, but also inspirational. In 1923, alarmed to learn that this enchanting site had just been acquired by a lumber company with clear-cutting ambitions, County Superintendent of Schools Ray Cloud leapt into action. He persuaded the County Board of Supervisors to purchase and preserve the area as a park. No political novices, Cloud and his allies recommended that the most prominent trees be dedicated to the memories of San Mateo County soldiers killed in World War I. Bronze plaques were later attached to the tree trunks by local Boy Scouts. During the Great Depression, 300 WPA workers built structures and amenities. As COVID recedes, this sanctuary is steadily returning to camping popularity.
COVID continues to impose its constraining influence. On our first June visit, we spotted only two other families. Returning yesterday, we noticed perhaps a dozen, plus a movie crew on a shoot. In dramatic contrast, on a typical pre-pandemic summer night, 1,500 campers might have been in residence. Selfishly, I prefer a pristine glade. But who can blame sweltering urbanites for filling $10 campsites?
Yesterday's mid-day park temperatures were 12 degrees cooler than at our retirement community 30 quick minutes over the ridge. Nancy and I enjoyed a simple lunch at an isolated picnic table, then strolled through wildflowers along Pescadero Creek. The Tallest Tree was 225 feet high and 1600 years old. What I liked best was that it didn't dwarf its closest neighbors; not a stand-alone relic.
When the park facilities were renovated in 2019, the County sagely sponsored a new flurry of memorial plaques, to complement the original WWI veterans'. My favorite conjured a dozen narratives: "IN MEMORY OF JESSIE AND IRVIN BLOMQUIST. BORN HERE. LIVED HERE. DIED HERE. DESCENDANTS OF LOCAL PIONEERS. 1912-2004."
We'll come back soon. To walk, to snack, to read, to sit and listen, to be. What an inviting prospect just over the hill.
            Getting Our Goats
All of us residing or working at our Portola Valley retirement community are acutely aware of wildfire risk. Our campus came within minutes of a mandatory wildfire evacuation two years ago. This past week, two fires flared just short miles down the road. For these reasons, most residents were delighted to learn that our community's management has imported a brush-cropping flock of goats. Flock owner Miguel Orozco was kind enough to answer my questions by phone from his farm in Patterson, CA.
Miguel explained that his principal business is landscape contracting. He also raises goats to sell as meat and milk producers. He typically has 350-500 animals on his property. Two years ago, a mentor encouraged him to put his flocks to good use, hiring them out for wildfire mitigation. Open fields of drying weeds are tinder for wind-driven brush fires. Accumulating ground cover on forest floors raises the pace and heat of rushing fires, increasing tree destruction and complicating defensive fire-fighting.
On the hills above our retirement community, Miguel's goats and sheep work as a tandem team. The goats are uniquely foot-worthy for accessing steep slopes. They eat the tops of weeds and trim flammable tree leaves up to seven feet above the ground. The sheep, especially lambs, crop stems to ground level. As a bonus, they savor scarfing poison oak, a plant that can seriously upset goats' otherwise ironclad plumbing. Their combined efforts are creating a buffer zone above and around our residents' apartments.
Miguel mentioned that our residents may notice he's sending out five different goat breeds. Some are for meat, some for milk, some for "athletic" cliff-scaling. "Tell your friends not to worry about the skinny ones. They're in perfect health and the best milk producers."
Deploying human mowers with heavy-duty weed-whackers is a supplementary fire-mitigation tactic. But labor is costly and humans don't work so well on uneven terrain. Herbicides like Roundup could be another option, but they're toxic, pollute downhill creeks and cause residual soil damage.
We talked about his animals' vulnerability to predators, especially coyotes and mountain lions. On our property, two kids have already been snatched by a lion. He employs shepherds and guard dogs 24/7 and is bringing in reinforcements. But the lions are desperate in this historic drought, and probably see the huddled herbivores as fair game. One lion aroused a barking dog and a shepherd the night before we spoke. "It came over the fence, snatched a kid and jumped back again, all in five seconds." Miguel is saddened by these losses but also accepts their inevitability. "These lions were here before you and me. One may be a mother with kittens. They won't retreat until we've completed our job."
Miguel sends his animals out from April through October, essentially following weeds' growing cycle. In the winter, he gathers his flocks on the farm, where offspring are born and sold. In the field, the animals eat what they chomp. On the farm, he feeds them organic alfalfa. "We're a family investment. They take care of us. We take care of them."
He hires shepherds locally in the Central Valley and trains them on the job in an informal apprenticeship. When screening applicants, he tests for two primary qualities: someone who's kind to animals and is willing to spend a week in the woods alone without reliable cellphone service.
He himself was born and raised in the San Francisco Bay Area but never adjusted to urban life. Loving animals, he persuaded his family to move to a rural area. They've never regretted it. A respected elder questioned Miguel when he was a young adult. How long did he expect to live? Never thought of it but perhaps 55 more years. And how long did he plan to keep working? Maybe 45. "Sounds like you'd better find something to work on that you love."     
For an illustrated June 8 National Geographic article on Southern California initiatives that parallel Miguel's, see Chris Iovenko, "Goats May Help Prevent Wildfires in California as Drought Worsens."
Continuing thanks to Nancy Swing for her value-adding photos.
Let me hear from you: rbs@agileaging.net