ROAD RAMBLE: LASSEN VOLCANIC NATIONAL PARK (Nov 15, 2019)
ROAD RAMBLE: LASSEN VOLCANIC NATIONAL PARK
       If you've been following this blog, you know that Nancy and I enjoy taking overland excursions to rediscover our native country, after decades spent living and working abroad. Here are some journal notes from one recent autumn expedition.
Getting to Our Destination
       We prefer staying off Interstates, if side roads can take us in our intended direction. On this trip we loved the routes above Sacramento, rice fields and silos, then orchards along Highway 70, the Feather River Scenic Highway. Oroville and its horizon-dominating dam were a sobering reminder of the 2017 flood. Highway 32 offered an inviting serpentine into the mountains. Zigzagging along Deer Creek, it was carved out by the Civilian Conservation Corps at the height of the Great Depression in 1934.
       Lassen National Park has no roofed accommodations within its boundaries, other than a remote upscale resort. So we made nearby Chester our basecamp for Park exploration. Charmingly named for the home towns of two founders – Chester, Vermont and Chester, Missouri – this community is supported by lumber production and tourism. The dominant employer remains Collins Pine, a three-generation family business committed to sustainable forestry. Their timber museum is a handsome temple, somehow blending Nordic and Japanese design, hand-crafted from six local woods. A quirky sample of local tourist services is the Koninkrijk Koffiehuis, a Main Street café whose German baker turns out stroopwafels and Sunday streusel.
       Bidwell House, our Main Street Bed & Breakfast, is run by Eva and Filip Laboda, ebullient and dedicated Czech immigrants. Their working day starts at 8 a.m., cooking breakfasts for guests, and they do their own housekeeping for 13 rooms and an adjacent cottage. I was amazed to discover that Filip then rushes across town to don his chef's hat at the Red Onion Grill, the Labodas' second enterprise. I asked him how he could hold down two full-time jobs. "Our season is very short" was his complex reply.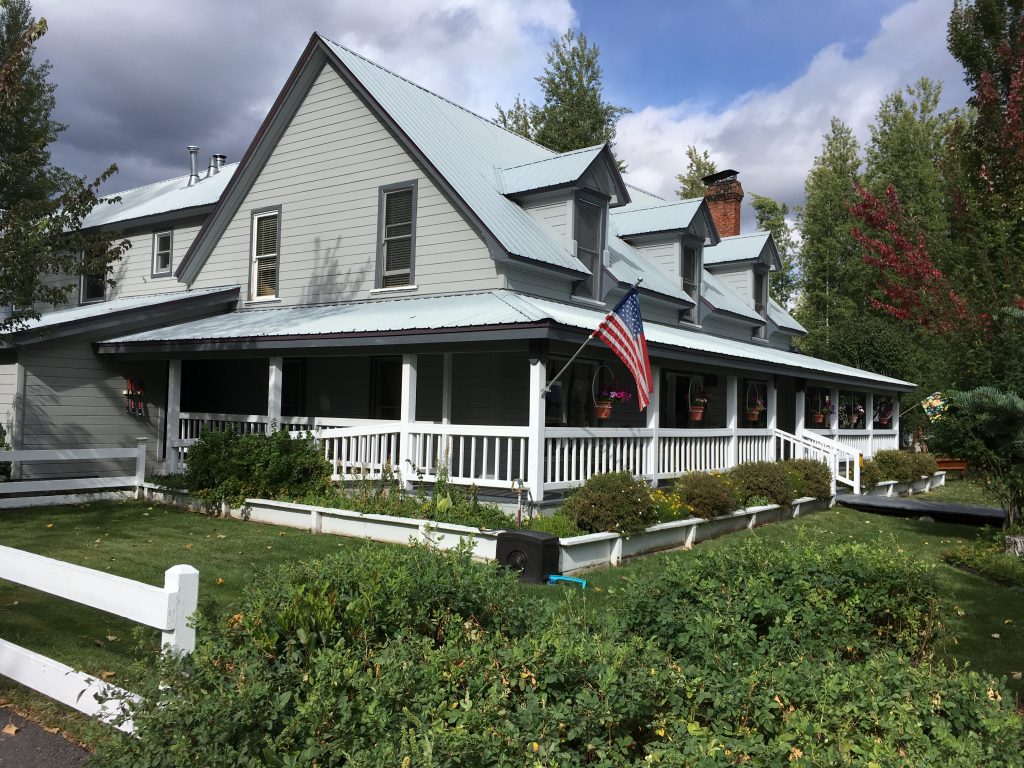 California History over Our Heads
       Bidwell House may be the most outstanding monument to layered local history. In 1841, John Bidwell came west from Massachusetts at the age of 22, one of the first pioneers on the California Trail. His first job on arrival was as business manager to John Sutter, host of the 1848 gold-rush discovery in Sacramento. Bidwell almost immediately made his own gold strike on the Feather River and soon founded the town of Chico. On a return trip to Washington, DC, he married Annie Elliot Kennedy, an active suffragette. To escape Chico's summer heat, the Bidwells built a summer residence in the mountains at Big Meadow, alongside the Feather River's North Fork. (A candid photo in the Chester Historical Museum shows their daughter, a member of the UC Berkeley Class of 1878, boating in the river with her college classmates. Beaming smiles signal they felt quite comfortable pulling oars in long skirts and sleeves under straw hats.)
       In 1914, the Great Western Power Company, predecessor to PG&E, dammed Big Meadow for hydroelectric generation, creating giant Lake Amador. Annie Bidwell, by now a widow, relocated her expanded summer cottage to downtown Chester, and soon donated it to a local church. (In that same philanthropic spirit, Annie also donated a 3,600-acre park to the City of Chico, where it remains today as multipurpose recreational open-space.) After decades as headquarters of a regional cattle company, Bidwell House now enjoys new life offering hospitality to travelers, including ourselves.
Magma under Our Feet
       Nearby Lassen National Park is a geological wonder. One of the few areas in the world to contain all four types of volcanoes – shield, cinder cone, plug and composite – the Park was established in 1916, in the midst of a dramatic series of eruptions. Today the peaks are dormant but the ground surface is puckered with boiling mud pots, fumarole vents and spouting sulphur springs. What I found most fascinating was that the source of heat for all this geothermal turbulence is two contesting tectonic plates 150 miles to the west in the Pacific Ocean, off the Northern California coast.
       Lassen Peak tops only 10,500 feet, not nearly the highest in the State. But the Park lies at the juncture of the Cascade and Sierra Nevada ranges. This vertical wall intercepts winds bearing precipitation from east and west. The result is the most annual snowfall in California, 700 cumulative inches in some years, closing the Park from mid-October to mid-May. The 29-mile Main Park Road took six years to build, from 1925-31. The road's 8,500-foot summit is the highest in the Cascades.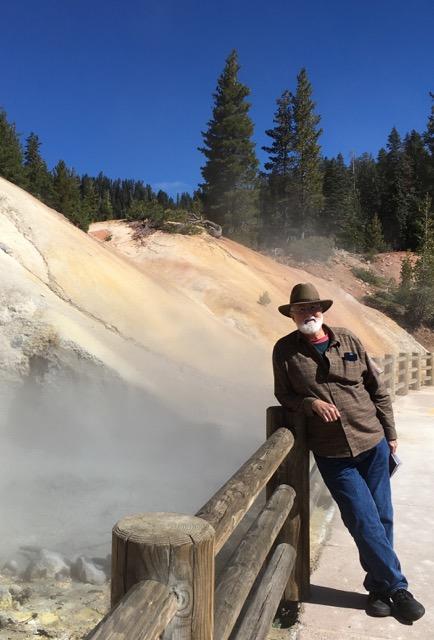 Nancy and I spent a delightful long day creeping along this at-times sheer two-laner, stopping at dozens of signed highlights, picnicking in a glacier-scraped bowl and eventually circling back around the Park's northern perimeter to Chester. The scientific and historical notes provided by Park staff made for a self-guided seminar. We learned, for example, that today's pristine sulphur vents once hosted a home-remedies extraction mine, mineral baths, cabins, an inn and even an up-slope modest ski resort. The Park acquired this grandfathered private parcel in 1951 and steadily restored its natural condition. Other roadside marvels included the Hot Rock, a massive, 30-ton boulder portaged a mile-and-a-half by the May, 1915 avalanche and mudflow from its origin near Lassen Peak's apex. Chaos Jumbles, comprised of decomposing scree, hosts a forest of dwarf mixed conifers, 300 years old but less than 10 feet high, stubbornly surviving like a bonsai nursery.
Westward Bound!
       Human history made this geographical laboratory doubly engrossing. We learned that Lassen National Park, signature peak, National Forest and County are all named for Peter Lassen, a Danish blacksmith who enjoyed a second career as a local guide for emigrants in the 1840s. Thousands more pioneers bound for the rich Sacramento Valley to the south were led through this same area by William Nobles in the 1850s and 60s.
       My favorite Lassen pathfinder was William Henry Brewer. A fellow Yalie, Brewer studied soil chemistry under Benjamin Silliman, the founder of the university's science program, graduating in 1852. After postgraduate studies in Germany and France, he was tapped at age 32 to serve as Chief Botanist of the first California Geological Survey. He spent the next four years leading field surveys of California's geology.
       In a plaque preserved today at the trailhead to Lassen Peak, Brewer is quoted as reporting that, when he climbed the volcano in 1863, he could clearly see from known Oregon mountains in the north to Mount Diablo, framing San Francisco Bay in the south. This 380-mile expanse is a disheartening contrast to modern haze.
       Returning to Yale to serve as the first Chair of its new Agriculture Department, Brewer later led the 1869 Survey of Greenland and participated in an historic 1903 Alaska Expedition at the age of 71. Whatta guy!
Close Encounters
       Our own local contacts were less storied but admirably stimulating. At B&B Booksellers in Chester, we chatted amicably with Logan Dunbar, an effusive young woman with theatre experience and a determination to see the world. Over pizzas at the counter in an upscale trattoria, the man on the next stool struck up a conversation with Nancy. They soon discovered we had all shared a remarkable range of international experiences. Now a forester, John Nickerson had worked in a succession of the same overseas posts as us – Kazakhstan, China, Pakistan and Tanzania. Now engaged by the National Park Service to advise on managing wildfires through controlled burning, John was attracting little enthusiasm from local residents still shocked by the nearby 2018 Camp Fire. Global warming and climate change were not welcome prospects. John conveyed the exciting news that, just that day, he and a survey crew had found tracks in the forest from a sizeable wolf pack, the first recorded in this area in the modern era.
What's in a Name?
      As Nancy and I headed for home, California history wouldn't release its grip. We noticed two intriguing road signs while passing through Stockton. Rough & Ready Island turned out to be a now-decommissioned World War II naval supply depot. Though secreted 90 miles inland from the Golden Gate, the site was accessible to ocean-going vessels through the Sacramento-San Joaquin River Delta. During the War, it also encompassed a POW compound for German prisoners and served as a communications outpost for the U.S. Pacific submarine fleet.
      Even more evocative was French Camp, identified by Wikipedia as the southernmost terminus of the Hudson Bay Company's fur-trading network from 1832-45. Otter-trapping along the Pacific Coast and beaver-trapping in the Delta powered the northern California economy before the 1848 Gold Rush reordered priorities.
      This final leg was a reminder that a senior journey can be stimulating as well as its destination.