The Dahlmans — Never Give Up! (October 15, 2019)
So far, our blog has presented profiles of fellow seniors who are creatively pursuing their passions: John Phillips on July 15 and Shirley Buccieri on September 15. Agile Aging also encompasses bravely confronting grave challenges, whether medical, financial or familial. We may not be able to avoid those disruptions, but we can decide how we respond. Meet Bill and Kathryne Dahlman, two undaunted and tenacious spirits.
The Dahlmans -- Never Give Up! (Oct 15, 2019)
A Chocolate Soufflé
On August 5, I had dinner at North Hollywood's Garden Bistro with my high school classmate Bill Dahlman and his wife Kathryne. Our evening got off to an awkward start. Kathryne and I were meeting for the first time, but Bill and I showed up 20 minutes late. Soon, however, initial discomfort gave way to cordial sharing. Kathryne and I traded memories of Arusha, Tanzania, where she'd passed through en route to National Park safaris and I'd worked as a young lawyer for the East African Community. Meanwhile, Bill and I were still bubbling over the detour that had made us late, circling the choice new property just acquired by our high school for expanded athletic facilities.
As our dinner moved along, I could feel us drawing together. A special dessert marked the special occasion, low-key, with no candles or choruses. It had been exactly a year since the blow that turned my friends' comfortable lives upside down. This was Bill's first restaurant meal in all those months. The soufflé didn't stand a chance. We devoured every bite.
The Game-Changer
Bill Dahlman was the least likely candidate for a stroke. He exhibited none of the four telltale preconditions: hypertension, diabetes, atherosclerosis or heart disease. To the contrary, he was far more physically fit than most 76-year-olds, bike-riding daily and regularly playing golf.
In fact, he'd been just climbing off an exercise-bike at his local gym when an "unbelievable" headache struck with such force and pain that he thought he'd pass out. He collapsed, dizzy and nauseous, against a wall and cried out for help.
Kathryne got an immediate call from a friend of her husband's who happened to be at the gym. "I remember I was feeding the dogs. The friend said Bill had had a heart attack and an ambulance had been called. They were taking him to St. Joe's. [St. Joseph's Hospital in Burbank.] I said 'I'm on my way.' The rest is mostly a blur. I got to the ER and learned it wasn't a heart attack. I asked if he was going to die. They said probably not. They gave him a CAT scan and moved him to ICU."
The diagnosis was a hemorrhagic stroke in the cerebellum, caused by a congenital weakness of a blood vessel that had ruptured and bled. The presiding neurosurgeon persuaded the Dahlmans to proceed with prompt treatment, inserting a catheter in Bill's femoral artery to carry "glue" to the rupture site for a patch job. After the procedure, the surgeon told Kathryne it had been a success.
When the staff wheeled Bill into a post-operative room, Kathryne and his two siblings were a bit unsettled by his prolonged unconsciousness. A nurse commented that music sometimes helped patients find their way back from anesthesia. After an awkward consultation, the family opted for a favorite tune, and Bill's brother pulled it up on his cellphone. "It's five o'clock somewhere," Jimmy Buffet's voice rang out, and the stressed-out family began to sway. Self-consciously but with rallying hope, they clapped and even sang along. "Tomorrow mornin', I know there'll be hell to pay, Hey, but that's all right." Bill's eyes flickered and his arms took up the beat. There wasn't a dry eye in the room.
The surgeon appeared, observed his patient, and instructed the staff to take Bill back inside. Kathryne asked the doctor what was going on. He replied that he "just wanted to check something." When he returned with Bill's rolling bed after an interval that felt to the family like an eternity, the doctor's demeanor had totally changed. "Something happened," he stated. "I'm very sorry."
The glue had successfully patched the rupture. But along its route, the catheter had blocked a small artery to the brainstem, provoking a second stroke. The compound damage to the cerebellum and the brainstem impaired Bill's control of movement of his arms, hands and legs, as well as his swallowing and speech. His thinking, language and decision-making remained intact. He also wasn't paralyzed. But the pathways that carry brain commands to his limbs, muscles and extremities weren't doing their full job. It was a brand new ballgame.
The Road Back
I was visiting Bill and Kathryne one year after his stroke. The morning before our bistro dinner, I sat with Bill in his sunny North Hollywood breakfast room. We'd spoken on the phone several times before I flew south. A flurry of impressions occurred to me within minutes of our hug. He had lost a lot of weight since I'd seen him four years ago. His voice was much easier to understand face-to-face than over the phone. His positive energy was pulsing. And he emphatically didn't want to dawdle over social pleasantries, as if our together-time were too precious to waste.
Bill's intensity was electric. I found it deeply moving. He confided that the weeks right after his stroke had been the worst. "I kept asking the doctors 'What did I do wrong? What could I have done differently?'" Their responses were emphatic and unanimous. He was totally without fault. He'd led an exemplary, healthy lifestyle. The congenital weakness in the arterial wall was a lurking risk, unpredictable and undetectable. Better to accept the past, they counselled, and pivot to focus on the present and future. The first six months of rehabilitation would give Bill his best prospects for recovering mobility. (If the brain stem is affected, as in Bill's case, recovery could take up to a year or more.) The potential contribution of an affirmative mindset could not be exaggerated. Bob Collins, the Dahlmans' close friend and a respected neurologist, relayed a mantra drummed into him by a medical-school mentor: "PACE – Positive Attitude Conquers Everything!"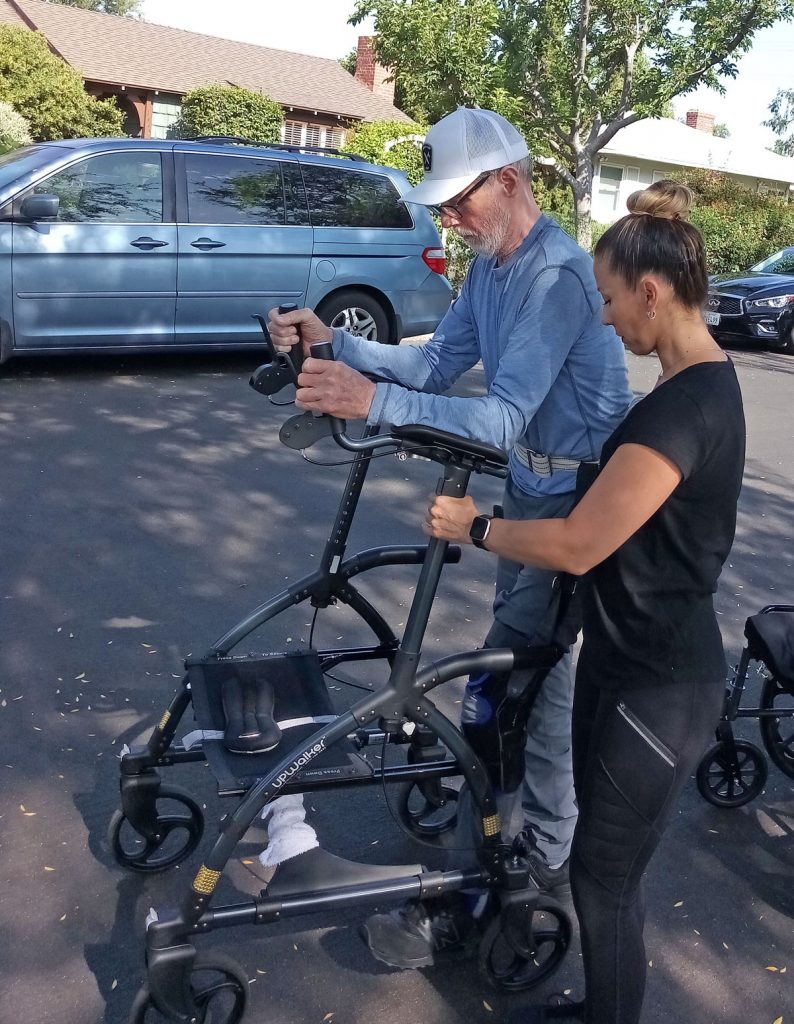 Bill's rehab challenge was daunting. With his body's internal communication system damaged, he'd have to relearn processes we normally perform automatically. Not just moving but also breathing, swallowing, speaking, grasping, writing, typing, balancing and walking. With Kathryne as his de facto case-manager, Bill plunged into an ambitious regimen. Out of the house five days a week, he was still going full-tilt boogie as we sat together one year later. Physical Therapy to help him retrain his arms and legs, hands and feet; Occupational Therapy, for daily-living skills like eating and use of a computer stylus; Speech Therapy, for lowering his high pitch, shaping his words, breathing to sustain phrases, and controlling his throat to facilitate swallowing.
On the phone and in person, Bill was eager to tell me about his most recent addition: aqua-therapy, walking in a supervised swimming pool, holding on to a horizontal bar and striding against a current. Within his home, he stayed almost equally active, riding a stationary bike, squeezing a rubber ball to regain manual dexterity, practicing on a keypad or talking on the phone.
Despite his multiple improvements, discouragement and depression remained periodic threats. "Russell, I do NOTHING without the help of others. Getting up, using the toilet, showering, dressing, eating. Everything. I am fortunate to have people with whom I'm comfortable." He repeatedly praised Kathryne for her unflagging loyalty and dedication. "She's been the essential partner. I could not have made it without her." He also introduced and complimented Arvin, his chief home-care aide. "He's fantastic."
From first hearing about it, Bill has been keen to collaborate on his Peer Profile in my blog. He spelled out his motivation. "I want to be an inspiration to other folks who suffer a stroke. I want to tell them to never give up, never stop trying to recover." He's convinced that resolve and persistence hold the keys, not only to regained mobility but also to retained hope.
I'd heard from mutual friends that Bill's determination not to shrink into isolation or totally surrender his prior life has carried him to extraordinary lengths. With professional assistance, transport, a wheelchair and a medical attendant, he travelled to downtown Los Angeles to participate in a non-profit board meeting. And even flew to San Francisco for another conference. "Of course, I want to get out and about," he affirmed. "But even more, I want to stay engaged with decision-makers."
In our breakfast room confab, Bill was brutally honest about the reciprocal adjustments required of him and visiting friends. He hated to be pitied. "I know they mean well, but whenever they see me for the first time, there's always a wince, a skipped beat. I can almost hear them saying to themselves, 'Thank God, it's him and not me.' I want to shout out, 'Dammit, I'm the same guy I've always been. Can't you see that? I'm just trapped in a body that's not receiving my signals!'"
We kept up a rolling conversation during my three-day visit. What I saw was a fighter, wrestling with interrupted circuits, having to reprogram the most elementary connections. His courage was palpable. His bursts of humor, remarkable.
I asked Bill to assess his degree of satisfaction with his recovery progress. He replied that he remains cautiously optimistic. His elaboration was revealing. His priorities are pragmatic and short-term. "I want to learn to walk. What everyone takes for granted. Sounds simple, doesn't it?" And with a wry grin, "You'd be surprised."
He's received medical advice that the return of "pins-and-needles" sensation in his feet and toes may be a good sign that the damaged sensory pathways in the brainstem are recovering. No additional treatment is warranted, but time will tell. The topic of motorized wheelchairs twice came up in our chats. I sensed Bill interpreted these machines as engines of surrender, tacit acknowledgement of permanent disability. He was definitely not ready to go there.
From that same perspective, he insisted on avoiding long-term planning goals or targets. "I try not to set goals other than walking. Deadlines set myself up for failure. That's a sure road to depression." And in another conversation, "I have the rest of my life to continue recovering, if that's what it takes. But I do need to see improvement. Making headway."
A Second Opinion
The morning after our dinner, Kathryne and I met over lattes at her neighborhood Starbucks. Bill had a therapy appointment and wanted me to have a chance to chat privately with his spouse.
The year since the stroke had been an exhausting marathon for her as well. During the initial post-operative period, her mode was multi-track crisis management. She had to act as her husband's de facto medical aide, paying particular attention to his eating and swallowing. Aspirating food particles could quickly provoke pneumonia, even lead to death.
Wearing a second hat, she had to mobilize the couple's financial resources and records and swiftly establish coordinated working relationships with Medicare, health insurance companies and providers of medical services. The good news was that the Dahlmans had savings and layered health insurance. The bad news was that Bill, as a former CEO and business consultant, had been the family's financial custodian. And while he'd kept meticulous, well-organized records, he'd converted his hard copies to electronic files, with passwords known only to him. Kathryne found herself conducting frantic searches while the clock was ticking.
She joked with me about her research ordeal, remembering the "Great Social Security Mystery." She knew that she and her husband were both earning Social Security benefits, and thought they were paid quarterly. But she couldn't find any record of these payments in statements for their family checking account. By accident, she ran across a promotional flyer from Bank of America and took a chance on calling the local branch manager. "Yes, of course, Mrs. Dahlman. Your husband established an account with us and it's been receiving automatic Social Security deposits for several years."
Having identified all their insurance entitlements, Kathryne's financial-management campaign was barely beginning. She'd naively assumed that the institutions she and Bill had been paying premiums to for years would now treat her and her husband as valued clients. But Medicare proved to be an intimidating maze: an automated, ponderous, jargon-speaking, rigid bureaucracy. And the insurance companies treated her claims as impositions to be challenged. As for medical services, she could locate hundreds of providers in Southern California but didn't know how to evaluate them or even what recruitment questions to ask. ("We've gone through four home-care attendants in one year.") The Dahlmans eventually assembled three sets of therapists for Bill's weekly treatments and three shifts of aides for round-the-clock home care.
All the while, Kathryne continued to direct her demanding interior-decorating business, with studios and workshops in the San Fernando Valley, Santa Barbara and Carpentaria. This commitment was no mere vanity. It sustained an essential family-revenue stream and also gave her professional and emotional distance from their all-consuming medical crisis.
Kathryne underlined in our coffee-klatch how much she respected Bill's courage and resilience. Her loyalty was non-negotiable and freely given. But a planned September excursion to St. Petersburg with friends, leaving Bill in the custody of his home-care squad, would be a respite she was keenly anticipating.
Take-Aways
          After shooting the rapids through a life-threatening year, Bill and Kathryne have no shortage of recommendations to share with blog subscribers. Here's a selection gleaned from our continuing dialogue.
Suggestions for Healthy Peers Who Think They'll Always Stay That Way
          DO continue to think and live positively. It's good for your health and equilibrium. But be prepared. If and when a serious medical (or other) challenge does arise, DON'T overreact or shut down. Get the best professional advice and help you can afford.
Speaking to couples waylaid by such emergencies, Bill and Kathryne separately sing the same lyric: "NEVER assume you have a free pass. It CAN and MAY happen to you, whether the crisis is catastrophic illness, injury or loss of a loved one." The Dahlmans had zero warning. They were blessed with a solid, loving marriage and substantial resources. But those privileges did not spare them from being severely tested – physically, mentally and emotionally. "Live every day to the fullest," is one obvious lesson. But another is "get your ducks in line."
For Fellow Stroke Victims
          Here's Bill's main message: "Never give up! If you stay with the rehab and recovery process, there's a very good chance you'll get well." Synergistic benefits from staying the course include improved motor skills, first and foremost, but also strengthened self-discipline, self-sufficiency and self-esteem. He adds that ups and downs are inevitable (tracing the arc in the air with a roller-coaster motion.) Recuperation may stall or even slip. But maintaining a positive attitude towards rehabilitation and adaptation is essential for wanting to live.
Bill hones in. "Keep on working to improve. Ask yourself honestly, 'What am I going to do with this problem? And what's Plan B if that first strategy doesn't work?'"
And as a reiterated segue, "A supportive spouse (or partner) is crucial. You can't get through this alone. And don't shut out your spouse while you suffer. This is a two-person campaign. Your spouse is your life-support system." (Bill's insistence in this area left me wondering, what's a senior stroke victim to do if he or she lacks a life partner? We didn't explore this solo scenario. Maybe this is a topic for a sequel post.)
For Fellow Care Givers
Kathryne emphasizes four crucial points:
Both partners should know in advance where key family financial records are kept and how to independently access them. With hindsight, she'd have treasured a written manual or directory. She's not totally comfortable with on-line searches, especially when guessing at passwords. Never say "let him/her handle that and I'll be in charge of something else." (Back at home, Nancy and I talked this over. A division of labor between spouses makes perfect sense. But Kathryne's core message remains valid: in case your partner goes down, know where his/her portfolios are located, and the current entry codes.)
If affordable, hire a professional case manager to work for you, coordinating liaison with public- and private-sector agencies. "Starting from scratch when your spouse is disabled and you're stressed out is a recipe for headache and heartache."
"Research rehabilitation services ruthlessly. There's a surplus of providers in this seller's market, but you need to narrow your search to top-quality, tested, reliable providers fitting your specific needs and budget."
Take care of your health. That's not selfish. You can't help your loved one if you're wearing down.
For Friends
          As already noted, Bill feels sensitive about these encounters and relationships. He believes the lessons apply across the board to all persons with disabilities, not merely stroke victims. "Don't make your friend, the patient, feel that he or she is different – different from before or different from yourself. Treat me as your friend and equal, with a mechanical problem. Not as someone distant or diminished." Bill accepts this as a reciprocal learning process, for him as much as for his friends and visitors. He can help put them at their ease, for example, by encouraging them to ask him to repeat a phrase if they can't understand his speech. He and Kathryne have also discovered that small-group gatherings are easier on everyone. Intimate and informal, less awkward and nerve-wracking.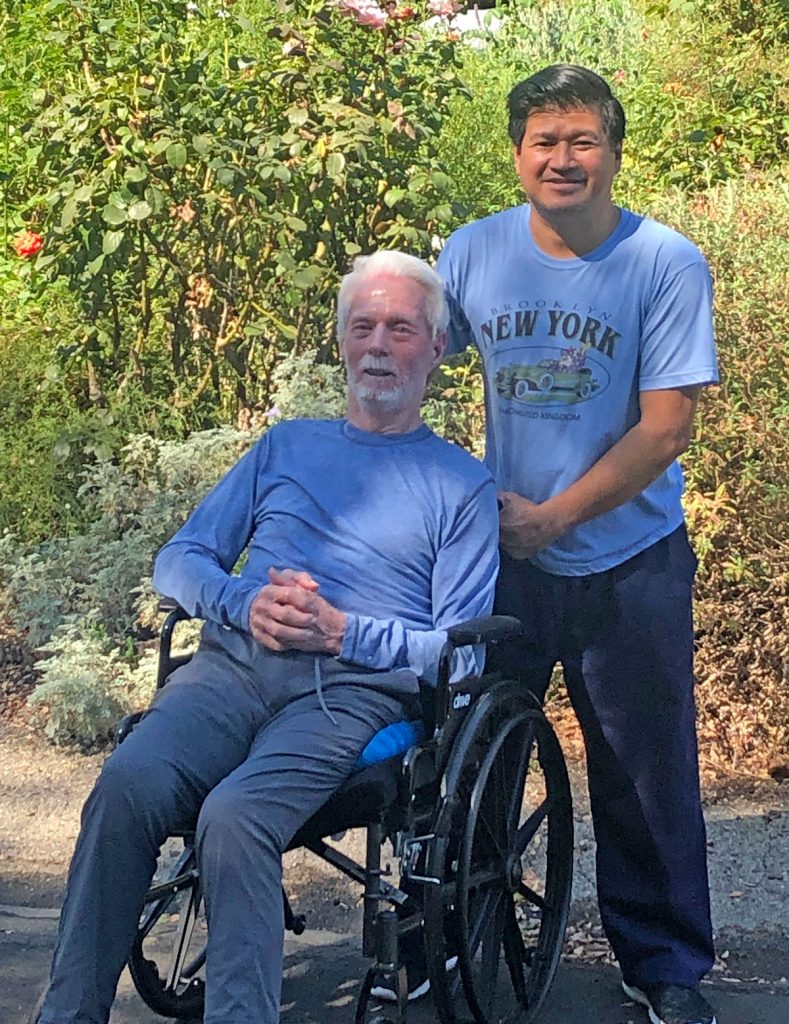 Today and Tomorrow
It was a pleasure to have an intimate August visit with Bill and Kathryne, and a privilege to witness their determination.
It's now October. Although he might disagree with this assessment, Bill is not the same guy he was before his stroke. He's older, sadder and wiser, tested, strengthened and proven. Not disabled but re-abled. Every successive week I chat with him, he sounds more animated and curious, introducing topics far outside the ambit of his therapeutic routine.
Kathryne has returned from her Russian excursion much restored and refreshed. She may now find time to resume her preliminary field research on Continuous Care Retirement Communities.
Next April, our high school class will reassemble for its Sixtieth Reunion. Walking or wheeling, William Dahlman will deliver the Keynote Address.
[I am deeply grateful to Bill and Kathryne Dahlman for their courage and candor in co-sponsoring this Profile. Heartfelt thanks also to Dr. Robert Collins for his patience in conducting a mini-tutorial to reduce my ignorance of medical terminology and procedures. Any remaining errors are solely mine. Bill, Bob and I graduated together from Harvard School in North Hollywood, California in 1960.]