STOP AND GO (April 30, 2022)
STOP AND GO (April 30, 2022)
COVID surges had twice forced Nancy and me to cancel a bucket-list road trip to California's southeastern deserts. First in 2020, again in 2021. Now lessening pandemic severity gave us hope that we could finally reach there for my April birthday. With luck, winter rains would stimulate the parched landscape's fabled wildflower blooms.
Simultaneously, my brother Doug's long-declining health entered a steep slide. We'd visited him two weeks before as he began home-hospice care. [See my March 31 post, "DOWN MEMORY LANES."] Now we agreed with Doug and his wife Lu that we'd come by to see them again en route to the desert.
The actual journey that emerged from these plans bore limited resemblance to our expectations. My trip journal records stops and starts, twists and turns, sorrows and smiles. Like so much of senior living these days, for better and for worse.
TOO SOON PARTED
            The call came through Sunday morning at 7:30 a.m. We were closing our suitcases in a Fort Tejon hotel room, ready for a take-out breakfast and the drive over Tehachapi Pass and across the L.A. basin to my brother's Whittier home. Lu was phoning Nancy's cell. She told us Doug had just passed, five minutes before, his lungs and heart stilled by pain-killing morphine. The three of us briefly talked. Lu sounded rough-voiced and exhausted. Her children and grandchildren were on hand to comfort and assist her. Doug's closest friends had maintained a night-long vigil. Now she was starting to spread the word. We agreed that Nancy and I wouldn't complicate her burdens by coming ahead to the house. She promised to let us know as soon as memorial arrangements were scheduled. 
            Off the phone, Nancy asked me how I was feeling about Doug's sudden demise. I replied that, selfishly, I felt sorry to miss a final opportunity to be with my brother, if only to hold his hand and say goodbye. But, thinking of him instead of myself, I was relieved that his wracking pain was over. Hospice care is a short, one-way ticket. Its only unknown is not whether but when. Tearing up as we hugged, Nancy said she'd wanted to tell Doug again how much he meant to her. Now he was gone, two hours ahead on the road.   
            We've encountered a steady stream of deaths in recent months: dear friends from around the world, near neighbors in our retirement community. Somehow Doug's passing is affecting me differently. In truth, we had never been especially close. Our five-year age difference had interfered with childhood bonding. I'd moved on to junior high while he was just starting primary school. In adulthood, my overseas career and his religious isolation had precluded much catch-up intimacy. But Doug was my last remaining sibling. And as the youngest of three brothers, his passing feels out of synch. Of course, our parents died first. Then older brother Bob. But Doug? It's not his turn. Expectations are only assumptions. Never a guarantee.
WIDE OPEN SPACES
            We altered our itinerary and pressed on to our first booked vacation stop – Joshua Tree, CA, gateway to the National Park with the same name. At first, we didn't know whether Lu would schedule an immediate funeral. If so, we'd turn around and head back to Whittier. She soon informed us a Celebration of Life had been set for May 19. (Nancy and I, our nephew and a niece will represent the shrinking Sunshine clan.) So we hung onto our full five-night reservation at Spin and Margie's, a quaint oasis with Southwestern design features and well-tended, hardy plantings. The property's new owner confided that COVID had been devastating for local small businesses; now the survivors were praying for a just-in-time rebound.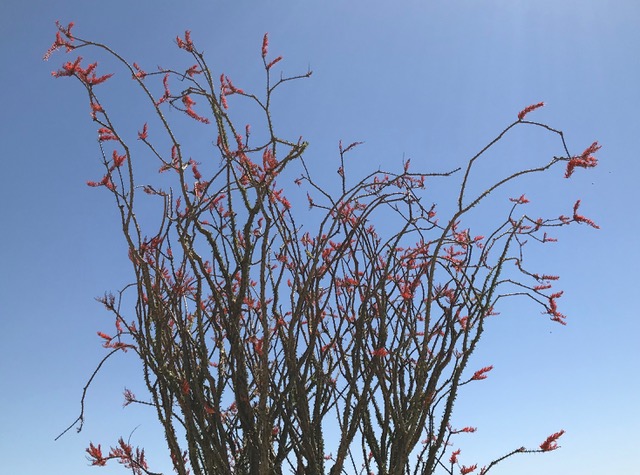 Joshua Tree National Park is vast, 790,000 acres straddling the Mojave and Colorado Deserts. Eighty percent is preserved as wilderness, but a strategically routed, paved Park Boulevard gives easy access to representative ecosystems. We found thousands of Joshua trees sprouting dense cream-colored blossoms. Not a tree, this yucca grows 40 feet tall, sometimes for more than 100 years. Farther south, we paused at designated sanctuaries protecting sky-reaching ocotillos, their spidery stems now tipped by brilliant scarlet flowers, and waist-high, "teddy bear" cholla cactus, a tight squadron of R2D2s.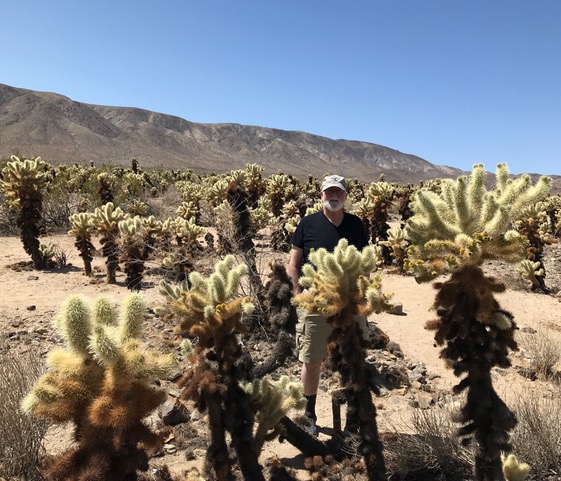 To me, this landscape's most impressive visual feature was the miles of dramatic rock formations. Park Visitor Center exhibits and roadside displays explained that these monzogranite (great name!) blocks had been uplifted as volcanic magma. After eons of chemical weathering by groundwater, now the behemoths fill a gallery of forms. Stacks of giant disks, recalling children's seaside drip castles. Tight panels of square and rectangular blocks, like mortar-less medieval walls. Tossed jumbles of giant boulders, reminding Nancy and me of East African kopjes. 
            I was intrigued how multiple 19th and early 20th Century cattle ranches had survived and even prospered in this arid environment. The key was a climate-change wake-up call. One hundred years ago, this area received five times its current rainfall.
            To afford access to clear, starry skies and avoidance of peak mid-day heat, the Park remains open 24/7. Nancy and I quickly learned that the most satisfying period for enjoying its pristine sweep was early in the morning. By 10 a.m., crowds were gathering, in vehicle caravans and pedestrian throngs. Mass tourism is a democratic boon, but loner John Muir must be shuddering in his grave.
HIGHER ASPIRATIONS
            Switch-backing up a sheer escarpment above Rancho Mirage, we ascended 4,000 feet from the desert floor. The simple black line on our AAA map had not prepared us for this precarious traverse. Some roads entering mountain ranges penetrate gradually, following water-sluiced gorges. This one seemed etched into a vertical cliff face. And for this driver raised on city freeways, encountering joy-riding BMWs on blind curves was a thrill too far. West Virginian Nancy likes to drive mountain roads; but not to sit on the passenger side with a thousand-foot drop inches away. Thirty minutes lasted an eternity. Thankfully, we emerged intact into an enchanting new world: high mountain valleys, grasslands and grazing Angus cattle, fruit trees and conifers, mild temps and scattered hamlets. State Route 79 traversed Paradise Valley, Warner Springs and Santa Ysabel, steadily southward to our second-week's destination.
            Succeeding millennia of light footprints left by Native American hunter-gatherers, Julian's recorded history links three colorful phases. A freed African-American slave and a cluster of Confederate Civil-War veterans sparked a mini-gold rush in the 1860s. After ore veins were exhausted in 10 brief years, James Madison (no relation) carted in a wagonload of seedlings that inspired an apple-growing boom lasting nearly a century. Today, the town's core population of 1,500 services a diverse tourism clientele comprising Harley honchos, pausing backpackers and weekend enthusiasts from metropolitan San Diego.   
            These hikers are a serious bunch: muscled calves, taut 50-pound packs, accordioned sleeping-bag pads and nested trekking poles. We shared a cordial latte with a German stalwart who planned to walk the entire Pacific Crest Trail, 2,650 miles from Mexico to Canada. I marveled at this five-month commitment but he casually remarked he'd previously negotiated the 2,200-mile Appalachian Trail ("The A.T.")
           Julian's entire area has been designated a Historic Preservation Site. Nancy and I lodged in the Orchard Hill Country Inn, a handsome Arts & Crafts property featuring gracious staff and gourmet breakfasts. Five minutes' walk down into the center of town brought us to an eclectic local-history museum, a relocated one-room schoolhouse, the Pioneer Cemetery, a quirky used-book store, a half-dozen cafes of varying quality, and as many bakeries rolling out the town's signature apple pies. Through the dusty windows of the museum annex, we admired two lovingly restored 1920s relics – a motorized carriage and a prototype bus that used to haul coast-dwellers up to the mountains.
            One educational highlight of our visit was a half-day tour of the California Wolf Center. A non-profit conservation program, the Center is a dedicated member of a network of institutions spanning Canada, the US and Mexico. These hubs collaborate in protecting, breeding and releasing small packs of North American gray wolves and critically endangered Mexican gray wolves. Its in-town facility doubles as a fund-raising gift shop and an auditorium showing thrilling wild-wolf documentaries.  
            Nancy and I find it never fails to enrich our appreciation of unfamiliar destinations if we can benefit from contact with knowledgeable local residents. In Julian, we were fortunate to reconnect with Melanie ("Kiki") Skagen. In 1968-69, Kiki and I had been close colleagues in the Berkeley Professional Schools Program in India. After a 30-year worldwide career in the U.S. Foreign Service, she retired to the secluded Julian ranch homesteaded by her grandfather in 1906. She kindly showed us her idyllic retreat – a modest ranch house she'd reconstructed on the original footprint, a nearby studio for her painting, orchards of fruit trees, a pair of aging horses, iridescent chickens and a purring rescue cat. Kiki's leadership role in the local Historical Society and artistic community gave us an informed glimpse of the area's shifting political-economic tides and tensions.     
FREAK-WEATHER DETOUR
            After a lifetime of travel, we're convinced that, if something can go wrong on the road, it often will. This is not a mantra for gloom and doom. To the contrary, we have learned to accept and even welcome inevitable glitches as invitations to adventure. In Julian, the challenge came out of the heavens. One day, blue skies, gentle breezes, 75-degree temps, a springtime idyll. Within 24-hours, 80-mph wind gusts, pea-soup fog and driving rains, with the threat of two inches of slippery snow. Our plan had been to drive down an eastern escarpment to visit friends, Bob and Valerie Collins, at their Borrego Springs home, and to explore adjacent Anza Borrego State Park. Suddenly, county foul-weather warnings and our hotel hosts were strongly advising no-go. Even if we could hazard the slalom down to the desert, our booked homeward route included crossing the Sierras at Yosemite. Now two feet of wet snow were forecast for Tioga Pass. What to do? Where to go?
            Bob and Valerie gave us a raincheck. We would rendezvous another time. But Nancy and I were repulsed by the prospect of ending our vacation with a stressful slog through San Bernardino, then up the sere Central Valley. Time for lateral thinking. What about a dash for the shore? How about a ramble up the Pacific Coast Highway, historic State Route 1, now mostly bypassed by US 101?
            Snatching serendipity from defeat, we cruised northward for three entertaining days and nights, slicing 500 miles into manageable tranches. In San Diego County, we strolled around San Clemente, lunching on local Hispanic specialties and chatting up veteran chocolatiers. South of Newport Beach, we rode along cliffs above Laguna and Corona del Mar where I'd body-surfed as a lad. Admiring stubbornly surviving cottages, we were discouraged by upmarket sprawl. At Long Beach Harbor, we crept through a street protest. Under police surveillance, angry locals marched with hand-lettered placards demanding that port-clogged trucks stop spewing toxic diesel emissions through their residential neighborhoods. For our first overnight berth, we ducked into a convenient Redondo Beach motel.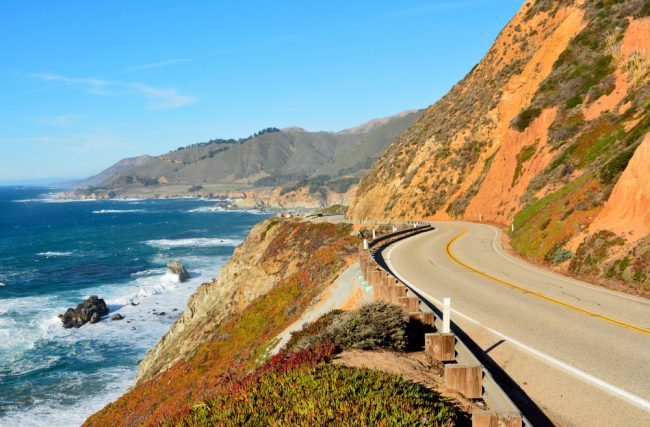 Skirting LAX without much hassle, we inched along the landward perimeter of Santa Monica and Venice. Though a native Angeleno, I was surprised to spot a Historical Landmark sign where Sunset Boulevard dipped down to the coast, identifying the spot as the original Los Angeles port! (Wikipedia later added that the boulevard's original route traced an 1870s cattle trail from the downtown pueblo to the hide-loading pier.) Up past Malibu and Zuma beaches, hazily remembered from my high-school's beach-volleyball outings. Temporarily overlapping with 101, the Pacific Coast Highway turned inward through Ventura and Oxnard, then slowed us to a crawl through perpetually gridlocked Santa Barbara. At San Luis Obispo, the scenic highway broke free again, sloping back down to the shore. We spent our second coastal night at a smartly refurbished motel above Cambria's Moonstone Beach. The town lured us back again for a return visit, to be combined with a tour of nearby San Simeon. Then off we went on our third and final day. Steering through Big Sur's dramatic hairpins and repaired slides, our former residence on Monterey Bay, Gayle's at Capitola, golden coastal plains above Davenport. Right turn at Pescadero, up over the Coast Range and down into Portola Valley. Splendid vistas. Historic remnants. Bypassed freeways. What a delightful, impromptu excursion for spending my birthday.   
SETTLING IN
            Back home, I picked up Louise Erdrich's latest novel. The Sentence ends with a booklist of 150 titles, supposedly compiling the main character's favorites. Fiction, poetry, history and politics. Travel, American Indian revisionism, love and passion, incarceration and the pandemic. The protagonist is a bookseller; the story unfolds mostly within the nooks and rows of a local independent bookstore. But the list is also an homage – to good books, book-selling and buying, book choosing and reading. Erdrich herself is a passionate bibliophile and a dedicated bookstore proprietor. She spices her fictional narrative with real titles and then encourages her readers in her Acknowledgements to dip into this bibliography, buying locally.
            When I normally encounter a comparable bounty, I respond with a "Whoop! See's Candies for the eyes and the mind." Which titles intrigue? Should I buy one for keeping, or phone my local public library for borrowing? This time, however, Erdrich's list rolled over me with a melancholy wave. I recognized several of her recommended authors, a dozen of her promoted titles. But I felt I was too late – too old to tackle such an ambitious syllabus. My guess is that I'm being influenced by a stream of passings – of my brother, close friends and neighbors. For sure, their deaths cut short their lives. But the losses are also disrupting my own confidence and continuity. Even in health, mortality is no longer a distant termination. It's become a present, unpredictable possibility. I love growing old. But recently I'm feeling that I may be running out of time.  
My sincere thanks to Nancy Swing and Shutterstock for this month's photographs