PEER PROFILE: Hugh & Ceseli Foster (February 29, 2020).
Peer Profiles can motivate and mobilize us by sharing innovative solutions to common challenges of aging. Blog followers during the first year of publication have consistently commented that they find stories more instructive than lectures, personal vignettes more relatable than aggregated statistics.
Here's the story of one senior couple who crafted a distinctive approach for transitioning to a retirement community. We're all familiar with a litany of explanations for resisting or delaying such a move:
We're not ready. Better to wait until we need 24-hour medical care.
"Retirement Community" is a slick marketing term for a nursing home. Moving in would mean accepting defeat and diminishment.
Our 40-year home gives us comfort, familiarity, relationships and privacy, not to mention a magnet for attracting our kids and grandkids. Moving out would sever those ties. And downsizing into a cramped retirement-community apartment would be claustrophobic, necessitating surrender of a lifetime of treasures.
Selling up and moving into an unknown retirement community would be a huge strain and risk, emotional as well as financial. How could we backtrack and bail out if we decided we'd made a horrible mistake?
Every senior individual or couple has to weigh their own mix of transitioning opportunities, constraints, resources and timing. But we can all learn from the choices and strategies of others. Meet Hugh and Ceseli Foster.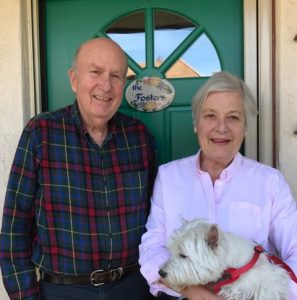 When we each still had a full head of hair, Hugh and I were groomsmen at his cousin's wedding. Then our paths diverged for 50 years. In one of life's charmed encounters, he recently reintroduced himself, with a Hospitality Committee badge and a glass of champagne, at our shared retirement community's New Year's Eve party. Hugh, his wife Ceseli, Nancy and I are catching up on life journeys and nurturing a new friendship. The Fosters have graciously agreed to let this now-bald reporter interpret their transition story.
PEER PROFILE: Hugh & Ceseli Foster (February 29, 2020).
Precedents and Predispositions
Hugh and Ceseli had no inhibitions about moving into a Continuing Care Retirement Community. Hugh had visited and helped care for his parents during their successful residence in a Central California retirement community. Before that, his grandmother had had a comparably positive experience in another CCRC. The couple was convinced early on that when their own time came, they too would benefit from the creature comforts and support services of a well-managed community.
Nor were they tempted to postpone that time until some chronic illness or critical injury forced them to seek support. They planned to move "way before our friends." In this same spirit, the couple didn't assign much weight to the risks of buyers' remorse. They were confident they could look before leaping, in addition to signing a CCRC admission contract without draconian penalties for withdrawal.
For the Fosters, the disruption of the moving process likewise presented no major intimidation. In their separate childhoods and then decades of marriage, they had moved over a dozen times. Hugh spent his early childhood in Caracas and Buenos Aires. Ceseli was a native of Hawaii. Both had graduated from New England colleges before Hugh took a Stanford MBA. Early in their marriage, they'd moved to Australia, Mexico and Washington, DC for his changing employment, raising five children in the process. Ceseli underlines the resulting skill-set with a laugh: "When it came to moving, we knew how to do it. Change was never something we were afraid of."
As a final pair of affirmative inducements, they had seen enough of flourishing CCRCs before making their own move to have concluded that a large majority of CCRC residents were independent and active seniors, not diminished or disempowered. And that on-campus medical services could be a welcome feature when needed, in no way a tacit acknowledgement of decline.
Special Requirements
As they planned their selection of a CCRC, Hugh and Ceseli were not relying primarily on family precedents or generic criteria. They had a clear picture of their own needs and priorities.  The couple had owned a series of homes in San Francisco for nearly 50 years, residing there when not periodically relocated for Hugh's professional assignments. Over the decades, they'd developed a rich fabric of San Francisco friendships and institutional affiliations. Equally important, two of their children and six of their grandchildren lived and worked close enough to visit regularly.
Retaining these valued connections would impose limits on their CCRC location. Twenty years ago, when Hugh had been visiting his parents, Central California could be reached from San Francisco in little over an hour's drive. Now that travel time had doubled, with no off-peak periods to avoid the crush. Keeping the city accessible would necessitate selecting a retirement community much closer to the Bay Area.
Hawaii remained a cherished additional base. The couple was deeply attached to the Islands. Ceseli had attended Punahou School, familiar to Mainlanders as Barack Obama's alma mater. Hugh had written a history of Ceseli's family, the Dillinghams, lead developers of urban Honolulu. Twenty years ago, Hugh and Ceseli had bought a vacation retreat on Kauai. This mid-Pacific sanctuary was another essential component of the Fosters' transition agenda.
Their Resulting Transition Strategy
The Fosters selected the South Bay CCRC that would later also become ours and moved in two years ago. At about the same time, they purchased a small San Francisco flat which smoothly evolved into an urban basecamp for the couple and visiting offspring.
For Hugh and Ceseli, this was not a seasonal migration, unlike East Coast "senior snowbirds" escaping bone-chilling cold by wintering in Florida. Instead, Hugh wryly describes the couple's San Francisco excursions as "senior commuting." Not for employment but for metropolitan engagement and enjoyment. Separately or together, he and Ceseli would drive up to the city from our senior community "one or two times a week." They'd visit old friends, schedule medical appointments and attend matinees. They'd use the flat to change clothes and refresh, returning south in the afternoon. San Francisco remained a magnetic hub but no longer a residence.
During this same period, the couple, their children and grandchildren continued to enjoy their Hawaiian vacation home.
In effect, the couple's transition strategy integrated their new retirement-community residence into an already satisfying San Francisco + Hawaii lifestyle. Two poles expanded to three.
How Is It Working Out?
From the outset, Hugh and Ceseli have been delighted by our senior community. They describe fellow residents as "accomplished but not boastful." As an only child raised in foreign countries, Hugh in particular has enjoyed fathoming and entering into the dynamics of a new "village." Both Fosters participate enthusiastically in Community committees, with an emphasis on music and entertainment.
Ceseli has appreciated the treatment standards and compassionate atmosphere she's observed in the community's on-campus, advanced-care medical facilities. The Fosters haven't yet had occasion to occupy these quarters, but neighbors they've visited have conveyed unanimous contentment.  
Downsizing to an 1,100 square-foot duplex was not a strain. Over the previous decade, the couple had already shifted from a very large San Francisco house to a smaller apartment, then from that apartment to a compact flat. With years to get accustomed to steadily lessening living space, the latest reduction has been comfortable instead of claustrophobic.
The Fosters have also enjoyed their triangulated lifestyle. Ceseli in particular was gratified to confirm that moving to a CCRC did not "cut us off from our old lives," especially in San Francisco. They've continued to nurture their San Francisco friendships and connections while cultivating new ones in the senior community.
They've been stimulated by the contrasting "cultures" of these two Bay Area poles: more metropolitan ("but not more cosmopolitan") in San Francisco, more mellow and relaxed in our CCRC. The physical environments are comparably diverse. Our senior community's landscaped gardens and surrounding open-space preserve give them "breathing room" as well as exercise.  Walks with dog Shasta are a daily treat.
As they celebrate this privileged equilibrium, Hugh and Ceseli recognize — more ruefully in her case, more accepting in his — that it may be steadily dissolving. Hugh is growing deeply disenchanted with San Francisco's crowding, pollution and safety concerns. Both find it stressful to drive up and back to San Francisco, especially on gridlocked US101. Night driving, avoided as much as possible, feels increasingly dangerous and frightening. They're aware of light rail as a potential alternative choice for commuting transport but have never put this to the test.
Hawaii remains precious to them both. But their children's and grandchildren's increasingly busy lives have made frequent family reunions at the remote Kauai location less and less practical. Reluctantly, the Fosters have recently put this family treasure on the market.
Responding to these influences, the Fosters' ingenious, multi-based, CCRC-transitioning strategy is evolving into something more conventional. Our senior community is increasingly attracting their principal attention and time. Thankfully, they're finding it a cordial, hospitable harbor.
Bottom Line: Advice for Fellow Seniors
Hugh and Ceseli hesitate to advise others on the basis of their personal transition experience. They're aware that fellow seniors may not share their values, geographic attachments or opportunities. That said, they've become convinced that, for many peers as well as themselves, CCRCs can offer an attractive, engaging option for senior living.  The top institutions are attentively managed, the antithesis of neglectful nursing-homes periodically pilloried in the media. To identify the best fit, the Fosters recommend visiting and revisiting several campuses.
As Agile Aging's facilitator, I'd like to underline two takeaways from the Foster's experience that I already see enriching the transitions of a variety of our CCRC neighbors:
One is the reminder that transitionng to a retirement community need not be isolating. Creative planning and implementation can combine CCRC residence with fulfilling retention of prior locations, relationships and activities.
The complementary point is that transitioning occurs in time as well as space. It's an evolving process as much as a relocation. Maintaining prior, off-campus connections during an initial period of CCRC residence can smooth the change-over and provide a diversity of stimulation. Then, as on-campus friendships, engagement and activities develop, while energy for outside entertainment and travel winds down, our focus may pivot, understandably and fittingly, to within our elder village.