The Lure of Trains (Aug 15, 2019)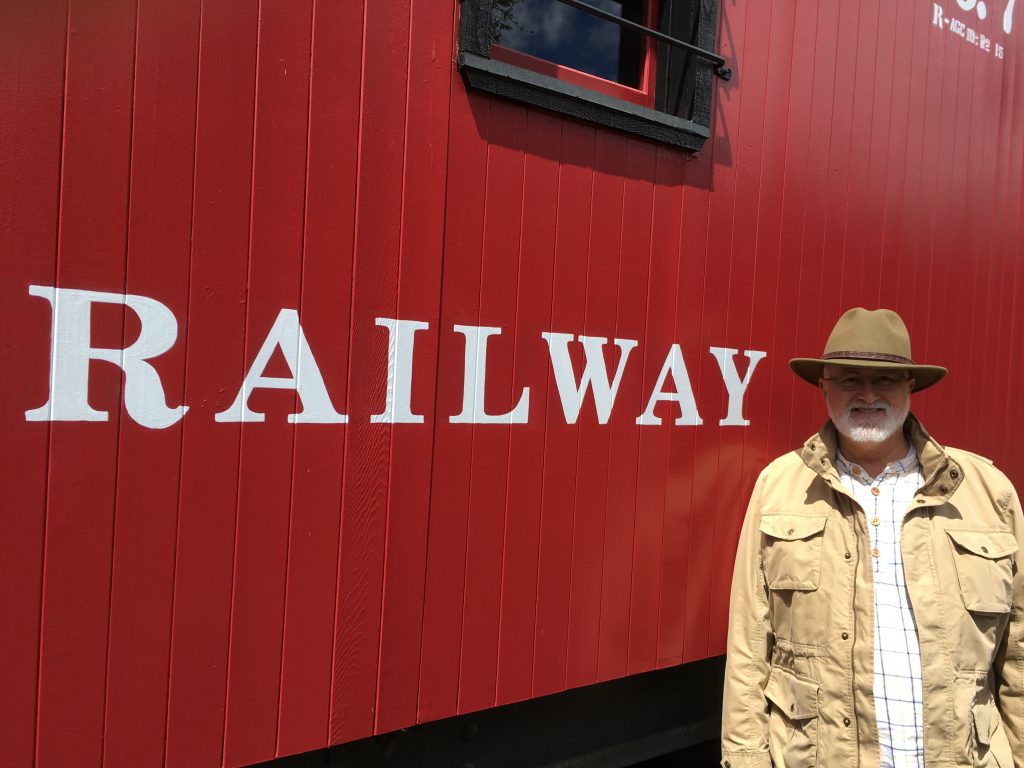 There are no two ways about it: Nancy and I have always been suckers for trains. She recalls the thrill of feeling very grown up traveling alone at age 12, en route to Washington D.C. to visit her Aunt Anne and Uncle Bill. I've a fading childhood memory of a family rail excursion from L.A.'s historic Union Station, bound for San Diego's enchanting Balboa Park Zoo.
Decades later, our shared infatuation for rail travel intensified during 15 years living in Italy. From the modest railhead 20 minutes down the hill from our Umbrian olive farm, we scooted by train all across the European continent. Throughout Italy to be sure, but also to Vienna, Prague and Budapest, Zurich and Geneva, Munich and Frankfurt, Paris and even London through the submarine Chunnel.
After retiring in the United States, we were delighted to discover Amtrak's tempting network of long-distance passenger routes, ready to help us get reacquainted with North America. The train names evoked geographic vistas and romantic history. We took the Coast Starlight north from California to Portland and Seattle, with a connecting bus into Canada. Nancy rode the Sunset Limited across the southern route, linking Los Angeles to New Orleans, traversing a desert magically in bloom after unexpected rain. Now we've separately climbed the Sierras and Rockies on the California Zephyr. Still on our to-do list is the Empire Builder's northern route from Seattle to Chicago.
To qualify this rail-riding zeal, I'd be the first to concede that American passenger trains don't measure up to international standards. Forget about 250-mph streamlined "Bullets."
The U.S. is still paying the price for a strategic infrastructure decision taken in the 1950s. President Eisenhower opted to prioritize construction of the National Highway System over upgrading passenger rail service. Roadbeds and rolling stock have subsequently been neglected. And in dramatic contrast to most international practice, American passenger trains are routinely shunted aside to let more profitable freight trains whistle past. Modernization plans are consistently deferred or underfunded. But if you can excuse the rattles, this is still an invitation to sweeping landscapes and vacation adventure.
Train routes are scenic, on the ground yet with elevated observation cars for relaxed viewing. It's virtually stress-free. Someone else does the driving. There's no airport security crunch, sardine seating or wrenching turbulence. We can stretch our legs by simply standing up and moving around. Private sleeping compartments let us rest overnight without breaking our journey. Dining-car food is superior to most roadside choices, not to mention rushed tasteless snacks on aircraft. Train trips introduce us to interesting fellow travelers, foreign and domestic. We can interact and get acquainted, but also withdraw to private space whenever it suits.
Senior discounts keep train fares more than competitive with other modes, especially when we factor in lodging and meals in addition to transport. On a recent Denver trip, my $450 Amtrak ticket bought one night's lodging in a private sleeping compartment, five multi-course meals and 1,400 miles of scenic transport. For comparison, my one-way Business-Class airfare on the flight back from Denver to San Jose was $420, for transport alone. And at 35,000 feet, the only scenery on offer was cloud banks.
Of course, train travel is slower than airplanes. But for us seniors, gearing down can be a relief. Equally true, train's fixed routes are less flexible than private-automobile itineraries. But for trips to agreed hub destinations, avoiding the strain of exhausting, dangerous high-speed driving is more than compensation. And we don't have to pay exorbitant downtown parking fees when we arrive, or navigate nervously through confusing downtown mazes. Especially as we age, the prospect of hassle-free, full-service transport combined with world-class scenery is immensely appealing.
As a civic-responsibility bonus, for those of us alarmed about climate change, switching from air to train travel contributes huge reductions in our personal carbon footprints. Just this month, Time Magazine reported an expanding social movement and economic trend across Europe, as travelers deliberately opt for less-polluting trains instead of planes. (https://time.com/5641390/europe-train-air-travel/) The article's title asks, "Could the U.S. Be Next?" America and Europe have the same geographic area. Any candidate ready to champion a bipartisan 2020 initiative merging nation-wide infrastructure investment and job creation with environmental foresight?
Over the next two weeks, let me share a pair of journal entries from a recent Amtrak ride. I hope you find my enthusiasm contagious.