VACATION & EVACUATION (September 30, 2020)
VACATION & EVACUATION (September 30, 2020)
From mid-March through July, pandemic precautions at our retirement community forced Nancy and me to shelter in place. August broke this pattern, taking us far off-campus, not once but twice. These unanticipated expeditions caused me to fall behind in blog reporting. With today's post, I'd like to do some catching up, sharing highlights of that eventful month.
By popular demand, you'll also find more reading recommendations.
VACATION: GETTING AWAY TO THE CASCADES
            As our spring/summer isolation stretched from weeks into months, Nancy and I noticed an increasing number of empty resident parking slots. Our neighbors were apparently slipping away. Casual inquiries revealed that more than nearby medical appointments were involved. Many of these extended absences involved sojourns at second homes or lingering visits to offspring. Since we had neither of these connections, we didn't pay more attention.    
            From the outset of our relocation to the retirement community at the end of 2019, periodic excursions had been part of our own adjustment strategy. Early on, we'd booked reservations at two inns on the Oregon Coast for an August getaway. COVID-19 threw a wrench into that plan, shutting down those commercial accommodations. But the appeal of getting out and about steadily intensified.
            Off Again, On Again
            A kind invitation from friends Bob and Valerie suddenly opened a door. They were preparing to spend August visiting their daughter and her family in Washington. Would we like to occupy their Central Oregon home for part or all of that month while they were away? Although deeply touched by this generosity, we had to decline because of scheduled medical appointments. But when Stanford called to postpone the earliest appointment, Nancy wondered whether it might be kismet. We re-contacted our would-be benefactors, and they assured us the invitation was still open.
            The prospect stimulated a serious family discussion. The offer's upsides were obvious. A private home would be much safer from pandemic risks than any commercial accommodations. The location in Sisters, Oregon, on the eastern slopes of the Cascades, placed it smack in the middle of volcanic peaks, Pondarosa forests and scenic rivers. And while we'd have to submit to two weeks of apartment quarantine upon our return, that seemed an acceptable price for spreading cramped wings. Mental and emotional relief were as vital as physical health.
            On the downside, Nancy in particular was apprehensive about a road trip's pervasive coronavirus threats. With a compromised immune system, she was an unwilling member of a vulnerable group. Every roadside stop would be stressful, bringing us into close contact with potentially unmasked strangers. A necessary overnight hotel stay in each direction would raise those stakes. Unlike senior friends still living at home and running errands in familiar neighborhoods, we hadn't ventured out of our protective campus since lockdown began. The 500-mile itinerary would take us far from our valued network of world-class medical care. And if we contracted the virus and brought it back to infect fellow residents, Nancy summed up, "I could never forgive myself for having been so selfish."
            Our community's Resident Coordinator surprised us by warmly endorsing this trip. "Take me with you!" she joked. Should the pandemic continue indefinitely, we needed to learn how to adapt. Venturing out on a regular basis, attentive but not paralyzed. This invitation gave us a timely opportunity to experiment and practice. Tallying up pros and cons, we decided to take the chance.
            On the Road
            Our car had been sitting in its parking spot for almost five months. So we sent it out to the local Lexus dealer for a roadworthiness check-up. We loaded it with extra masks, sanitizer and disposable gloves, as well as a cooler full of food and drinks. Routing ourselves in a wide arc east of the San Francisco Bay Area, we bypassed the bridges and most metropolitan traffic. At gas stations, we wore gloves to pump, paid with cards to avoid touching bills and coins, and kept restroom visits as brief as possible. En route coffees and lunches were strictly drive-through.
            For our overnight stays in both directions, we selected a Marriott hotel in Redding, CA, knowing that chain had just instituted extra COVID deep-cleaning and social-distancing protocols. Trying to learn from a flurry of news articles on pandemic booking, I asked for a ground-floor room to avoid the elevator and one that hadn't been recently occupied to allow any pathogens to expire. When we arrived at the hotel, we both avoided lingering in common indoor areas. And Nancy re-wiped room door handles and surfaces with alcohol-based disinfectant. Hotel dinners going and coming were in-room picnics from our cooler.
            Until new appropriate traveling behaviors became habit, we kept reminding each other to pay attention to pandemic precautions. The trip went smoothly and was even fun. I remember our delight at a Walgreens early-morning Senior Hour. We cruised deserted aisles, filling our baskets with household goods. Mostly necessities but a few indulgences. We'd gone without for five months of sequestration.
            Up and down the highways, we were repeatedly struck by the good cheer and moxie of struggling small-business proprietors and their helpful employees. The cashier in that Walgreens joked with Nancy about tabloid gossip magazines. "I tell my two girls, if you don't want to be on the receiving end of tall tales, don't be a spreader." A young husband-and-wife team welcomed us in both directions to Tylers Texas BBQ in Klamath Falls. Served through a window and sitting outside, we devoured pulled pork, beef brisket, home-made coleslaw and tall cups of Pepsi.
            In Bend, Oregon, we encountered an exceptional Good Samaritan. Apologizing for not having a new watchband in the right size to replace my unravelling one, Daniel Mitchell outfitted me with a used but far superior leather strap, declining to accept any payment. After losing a verbal arm-wrestling match, I thanked him profusely, petted his amiable pooch goodbye and later wrote Daniel a glowing review on his website. What a generous gesture for a local merchant who surely knew he would never see this out-of-state customer again.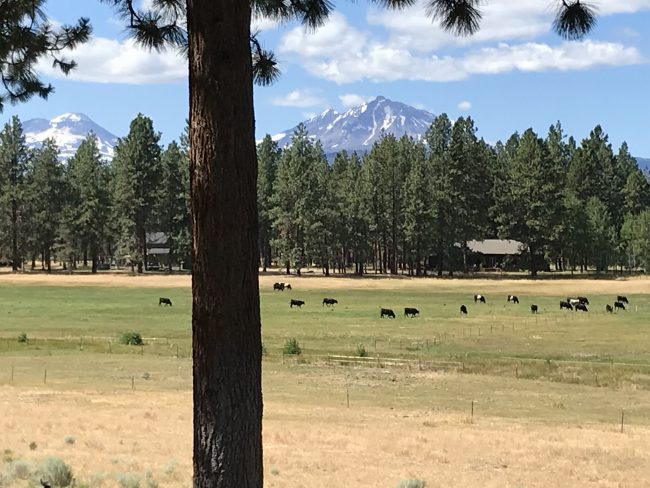 Journey's End
            Our friends' Oregon home was an elegant sanctuary and basecamp. After our compact apartment, it felt palatial. Their bold art collection was worthy of a gallery. Best for me was the back deck overlooking a mile-long meadow, with the three Sisters volcanoes as a dramatic backdrop. I would sit there for hours, sharing the vista with grazing cattle, browsing deer and a bold-as-brass coyote.  
            Daily walks were another treat. Bob, our host, had left notes alerting us to recommended trails and country roads. Most enchanting for me were nearby Camp Polk Meadow and Cemetery. Established in 1865 as a Union Army post to protect Oregon Trail immigrants, the Camp was occupied for 70 years by two generations of the Hindman family. They maintained the wagon road and managed a store, post office and travelers' rest. After decades of disrepair, today the meadow is preserved as a historical landmark by a public-private land trust. Although the barn is a melancholy ruin, I marveled that the restored river system again attracts spawning salmon and steelhead, muscling their way upstream hundreds of miles from the Pacific.
           The adjacent hillside cemetery is a quirky treasure in its own right, half-neglected but still in use. I spotted gravestones from 1880 to 2016, including Martha Hindman's from 1940. Many decedents were military veterans. Fenced family plots contained touching mementoes — toys and baseball caps, miniature replicas of fly fishermen, tractors and RVs. A few included sun-sparkled carpets of polished stones or beach glass. Biblical inscriptions were favored. Epitaphs linked married couples. "He was a diamond in the rough. She, the setting that made him shine."  Down on its luck, the hill crest somehow combined the ancient roots of a pioneer site with the stubborn resilience of country neighbors. Quaint, poignant, even haunting.
            In downtown Sisters, Nancy and I spoiled ourselves with 6 a.m. sorties to the local bakery. Then on to the first-rate grocery store for fresh produce and dairy products. All local shopkeepers and most residents were conscientious about mask-wearing and social-distancing. Unfortunately, most tourists seemed oblivious. This caused us to forego craft shops, museums, galleries and groups. But we'd anticipated that before leaving home.
            Away from town, pandemic negligence also became a problem. For example, we had hoped to hike around a celebrated alpine lake. But hundreds of tourists crowded the shoreline and shallows, with no masks in sight. We quickly decided to conduct most of our sightseeing from inside the car. Still, the natural scenery was lovely, even on wheels. Enjoyable excursions included a loop up and over a Cascades pass, a meander alongside the serene Metolius River, and a side trip on National Forest service roads to lunar lava fields. Back in our friends' handsome sanctuary, we took pleasure lounging, reading and writing.
            One unpleasant surprise was the return of Nancy's migraines. This condition had debilitated her when we'd lived in Italy but disappeared when we'd moved to the foggy, overcast Monterey peninsula. Now, perhaps due to a combination of elevation and bright glare, she was struck down again and laid up for several days. By recuperating indoors, she brought it under control and, by the end of our visit, was on the mend.
            Home Again  
            Our return leg back to the San Francisco Bay Area was smooth and uneventful. We're encouraged by this maiden voyage and plan to repeat it. As a variation, we've booked a guaranteed-hygienic rental house on California's northern coast for early December. We like the promise and prospect of quarterly excursions. Periodic absences from our protective but confined retirement community seem one practical strategy for making extended isolation work.
EVACUATION: GETTING AHEAD OF AN ILL WIND
            A Rude Surprise
            Nancy and I arrived home from our Oregon vacation on August 15. We spent the next few days unpacking, catching up on email correspondence and squeezing in a cluster of video and in-person medical appointments. Evenings found us faithfully watching the Democratic National Convention.
            As the week advanced, our attention was increasingly focused on the nearest exploding wildfire. This blaze started in the coastal redwood forests of Santa Cruz County, over the ridge and southwest from our Portola Valley retirement community. By Thursday, August 20, governmental authorities were publishing twice-daily fire-progress bulletins. Friday morning, the health-and-safety situation was rapidly deteriorating. Sixty thousand acres had already burned, and the fire was only 5% contained. Due to an outburst of simultaneous California fires, our local firefighting crews were understaffed and overextended. To up the ante, the National Weather Service issued a Fire Weather Watch in anticipation of approaching thunderstorms and possible dry lightning over the coming weekend.
            Our community's Executive Director encouraged Independent Residents with cars to initiate voluntary self-evacuation. While this recommendation was couched in terms of individual prudence, Nancy and I appreciated that early departures would also free up community staff to concentrate on helping less mobile residents in the event of a mandatory mass-evacuation order. We also preferred to avoid the panic and press of a possible campus-wide surge, especially at night. So we began making contingency plans for a quick family getaway.
            First, we compiled a merged his-and-her list of items to take, distinguishing "Have-to's" from "Nice-to's". Contemplating the possibility that our self-evacuation might soon be followed by total shutdown and even destruction of the community, our inventory substantially exceeded the stuff-and-sprint contents of a conventional "Go Bag." In addition to essential credit cards and medications, we included financial and legal documents, key hard-copy files, contact coordinates, laptops and cellphones, cables and chargers, a suitcase full of clothes for each, toiletries, reading and writing materials, a cache of cash. Also, three family photos and two boxes of archival journals and letters for Nancy's new blog.
            As usual, pandemic precautions complicated everything. We tossed in extra masks, hand sanitizers, disposable gloves, plus a week's supply of food (cans but also perishables in an insulated cooler.)
            We began brainstorming about safe destinations with breathable air, reachable within reasonable driving distance. Several preliminarily appealing candidates were swiftly foreclosed by fire-blocked access. Scrolling south on her cell-phone map, Nancy spotted Morro Bay. I jumped on the computer and phone and, by Saturday evening, had locked in a Vrbo rental house for a one-week contract with immediate occupancy. Committed to leaving, we packed our bags that same night and collapsed into bed.
            Deteriorating conditions Sunday morning, August 23, convinced us we were making the right move. Winds had shifted to the southwest, driving the fire in our community's direction. Smoke and ash outside our apartment was thick and acrid, billowing down the adjacent slopes. The lightning storm was approaching fast. We filled out our Self-Evacuation form and notified apartment neighbors and the community's Director of Resident Services of our imminent departure. Loading the car, we drove out at noon. (While I set the GPS, Nancy made a final walkabout inside our apartment, taking leave of a lifetime of treasures just in case.)
            I was surprised freeway traffic was so light. I'd imagined lots of other folks would be making a parallel dash. South on 280 to 85 to 101. A gobbled drive-through lunch at In-n-Out Burgers in Morgan Hill. On through Salinas, Paso Robles and Atascadero. For 200 miles we drove in or under smoke. At last, Morro Rock's imposing bulk dominated a blue skyline. Door-to-door in four hours.
            Our Vrbo cottage was plain and adequate, to put it diplomatically. We spent a decompressing week taking walks in clean air, reading, cooking and working on our blogs. Phone calls and a Zoom meeting confirmed that our retirement community had dodged a bullet. The Residents' Emergency Coordinator wryly remarked, "We were only one wind shift away from a mandatory Evacuation Order." Portola Valley authorities announced it was safe to return home. Nancy and I made the trip north exactly one week after rushing out.
            We're now safely back home, thankful to be resettled in our community apartment. As an index of this conflagration's gravity, between mid-August and mid-September our San Francisco Bay Area suffered an unprecedented siege of 30 consecutive days of dangerously unhealthy air quality. Eerie colored skies were nationally publicized. Today, a blue vista graced my window. In the pre-dawn sky, Jupiter beamed like a beacon for the first time in months. 
            Meanwhile Oregon has arguably been hit harder than our own California. After our visit, our friends Bob and Valerie fire-proofed their Sisters house and made their escape eastwards through Idaho and Nevada, en route to their winter refuge in Borrego Springs, California. They are in our daily thoughts and prayers.      
            Let me share three preliminary takeaways from our family's near-brush with incendiary terror:
As our Governor says, "If you still doubt Climate Change, come to California." Rising temperatures, chronic drought and consequent wildfires are our new normal. We need to treat these natural disasters as cyclical certainties.
When those emergencies occur, seniors in particular need to be prepared and nimble. We're not as quick-thinking as we used to be. Our judgment is as creaky as our knees. Hesitation is risky. Have a plan, make your lists, pack your bags and hit the road.
In such quick-quick, gotta-find-a-place emergencies, forget about searching for the perfect berth. Rental-property platforms' top-rated listings won't be available on short notice. If owners and agents are listening to the same Breaking-News bulletins you are, they'll have no incentive for granting discounts. In this persistent pandemic, rental houses will still be a surer social-distancing bet than hotel rooms. But take what you can get at your chosen destination. Be content with safe shelter. Then sanitize as you enter for peace-of-mind.
THIS MONTH'S RECOMMENDED READINGS
THE GEOGRAPHER'S LIBRARY by Jon Fasman
            One of many advantages of living with a discerning spouse is that she can encourage you not to give up on a slow-starting novel. This clever, menacing mystery intertwines two incongruous plotlines: medieval alchemy and small-town New England journalism.
            A glowing cover blurb compared this author to Umberto Eco and John Fowles. We both thought this was marketing overreach. A more telling clue was the fabulously successful publication two years before of Dan Brown's DA VINCI CODE.
            Literary pretensions aside, I enjoyed the chance to vicariously revisit Ashgabat and Dushanbe and to glimpse the Baltic shores of Talien. A further treat was the respectful reanimation of the cryptic vocabulary and paraphernalia of alchemy, often rudely dismissed and derided by modern science.
            A sleuthing romp for locked-down entertainment.
THE RIDDLE OF AMISH CULTURE by Donald Kraybill
            Agile Aging followers may recall my 2019 blog post celebrating a cordial encounter with the Miller family on the California Zephyr over the Rockies. Patriarch Dan and I have since become regular pen-pals, and he graciously sent me this gift to help answer my stream of questions about his Amish culture and community. The book is a weighty hybrid, combining an academic cultural-anthropology treatise with a personal testimonial. Professor Kraybill is well-qualified for both. Wikipedia calls him the foremost living expert on Old Order Amish. He's also an admiring neighbor, having nurtured close relationships with Amish friends during 70 years of residence in Lancaster County, PA.
            The riddle in his title is intriguing: "How is it that a tradition-laden people who spurn electricity, computers, automobiles and higher education are not merely surviving but are, in fact, thriving in the midst of modern life?" The evidence of that success is impressive. The Amish are the fastest-growing ethnic group in America. Over 90% of their youth, despite bombardment by secular temptations, elect to permanently remain within the fold. And with some delays and detours, their economy is skillfully transitioning from small-scale agriculture to artisanal microenterprises and tourism.
            Kraybill's solution to this central puzzle is complex and engaging. Among the hooks anchoring successful "tribal" resilience, he flags intense religious commitment, centuries of persecution, mutual support and a vigilant determination to resist modernization. Accepting the futility of total isolation, the pragmatic Amish bishops maintain a strategic balance between separation from, and cohabitation with, the outside world. Separation is re-enforced through a comprehensive code of conduct, extending from dialect and schooling to labor, entertainment, dress and transportation. To achieve accommodation with the secular authorities, they negotiate legal compromises and exemptions. The antithesis of quaint hobbits in buggies and bonnets, this faithful minority astutely manages social change by "moving cultural fences."  
            For me, the most thought-provoking part of Kraybill's analysis was his summative comparison of Amish and modern societal values. To his credit, he is not a sentimental advocate of the community. He frankly concedes that "Amish culture remains entrenched in provincialism, sexism and traditionalism." But he also unflinchingly critiques the self-indulgence, consumerism, and alienation too pervasive in modern society. One provocative inference he draws is that the two systems have directly contrary priorities and impacts: "Tilted toward the rugged individualist, modern culture easily tramples on the weak. Amish culture, tilted toward the community, easily suffocates the strong."
            Perhaps unsurprisingly, Kraybill encourages both systems to learn from each other. I must say that I found the Amish dedication to social responsibility and burden-sharing particularly appealing during this period of disdain for mask-wearing and passion for partisan combat.
SIMON THE FIDDLER by Paulette Jiles
            Here's another charming Wild West saga by Paulette Jiles. This one's a tangential prequel to the author's prize-winning NEWS OF THE WORLD. That gem's quirky protagonist, Captain Jefferson Kidd, is now limited to a cameo appearance. Taking his place as leads are two worthy substitutes: a determined frontier violinist and an equally courageous immigrant governess.
            Again we're in post-Civil War Texas, as demobbed Confederates cower to avoid recognition and Union commanders begrudgingly relinquish control to civilian authorities. The poet-novelist writes lyrically of hurricanes, cactus and wild horses. Again she demonstrates a sensitive perception of relations between the sexes. And an ear and smile for frontier dialogue. (I loved the immigrant Irish proverb, "God is good, but never dance in a small boat.") There is brutal violence too, yellow fever and dastardly deeds. But music is the linking strand, sustained with confidence by a writer whose Acknowledgements thank fellow members of her performing band.
            A zippy drama, with players you come to deeply care about. Can't wait for the movie.
COMING OCTOBER 31: Fareed Zakaria's Ten Lessons for a Post-Pandemic World